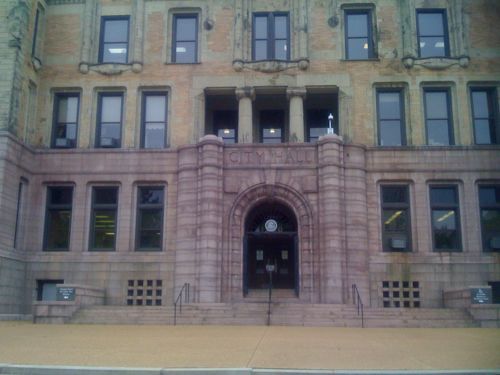 The St. Louis Board of Aldermen will meet at 10am today, their 17th meeting of the 2018-2019 session.
Today's agenda includes zero new bills, however, there are two bills on the 'Perfection Consent Calendar':
B.B.#105 – Kennedy/Pres. Reed – An ordinance authorizing and directing the Mayor, to submit all necessary applications to enter into agreements with the Missouri Foundation for Health for participation in a project to develop a criminal justice coordinating council to advance social justice and reforming pre-trial bail to reduce the jail population, and authorizing the Mayor, upon approval of the Board of Estimate and Apportionment, to expend any funds received by said grant to fulfill the obligations of the grant, and containing an emergency clause.
B.B#110 – Williamson/Oldenburg – An Ordinance recommended by the Board of Estimate and Apportionment authorizing the issuance and delivery of not to exceed Fifty Million Dollars ($50,000,000) Principal amount of General Obligation Bonds, series 2018, for the purposes of paying the costs of the project and the costs of issuance of such bonds, all for the general welfare, safety, and benefit of the citizens; containing a severability clause; and containing an emergency clause.
And three bills on the 'Third Reading Consent Calendar':
B.B.#73AA – Howard/Murphy/Ingrassia – An ordinance pertaining to conveyances of title and the recording of such transfer with the Recorder of Deeds; amending Section Three of Ordinance 56141, approved on March 23, 1972, and Ordinance 65038, approved on August 9, 2000, by removing the requirement of the signature of the grantee on deeds issued by the Sheriff of the City pursuant to court order.
B.B.#100 – Arnowitz/Ingrassia/Green/Guenther/Navarro/ Middlebrook/Rice – An Ordinance authorizing and directing the Director of the Department of Human Services, by and through the St. Louis Area Agency on Aging, to accept a
Grant Award from City Senior Services Fund in the amount
of $50,000 over the next fiscal year and to expend those funds for the City Benefits Plus program as set forth in the Grant Award Agreement, attached hereto as Exhibit A; and containing an Emergency Clause.
B.B.#91FS – Navarro/Williamson – An ordinance approved and recommended by the Preservation Board and Planning Commission pertaining to the Skinker–DeBaliviere-Catlin Tract- Parkview Historic District; amending Ordinance #57688, repealing and replacing certain standards for the Skinker–DeBaliviere-Catlin Tract-Parkview Historic District.
The meeting begins at 10am, past meetings and a live broadcast can be watched online here. See list of all board bills for the 2017-2018 session — the new bills listed above may not be online right away. You can learn more about how a bill becomes law here (boring text, no cartoon)
— Steve Patterson