The future of Grant's Farm is coming between siblings — children of the late August Anheuser "Gussie" Busch, Jr. (1899-1989). I find it unsettling to see wealthy siblings, in their 50s & 60s, disagreeing m public.
Before I go any further, I have a confession: I've never been inside the gates of Grant's Farm or the Ulysses S. Grant National Historic Site located across…Grant Rd. I've certainly driven past on Gravois many times, even exploring the perimeter like Pardee Rd. On Sunday we drove around the site completely. Though the site contains many buildings, it's still very much unspoiled nature.
One comment on the Sunday Poll post was:
FYI your 3rd choice isn't an option. Do a little research on what municipality Grant's Farm lies in and what it's zoning laws and ordinances are. Also look up what part lies in a flood plain. Not going to have to worry about any commercial or residential development here!
While poll answers are presented in random order, this was a reference to the poll answer: "Sell to a developer for houses &/or retail"  Not only is it possible, this is the concern of the four Busch siblings that would like to sell the animal preserve to the St. Louis Zoo.
Four Anheuser-Busch heirs worry that their brother, Billy Busch, will turn Grant's Farm into a subdivision.

No one man can finance and maintain the sprawling South St. Louis County animal park, said Trudy Busch Valentine and Andy Busch. It's just too expensive.

They have seen housing plat maps already drafted for the Grant's Farm land, they both said, and know it's an option for any owner if times get tough.
Billy Busch responded, saying he wouldn't sell off land. St. Louis County classifies the land as single family, Grantwood Village has it zoned "Animal Preserve." The Lindbergh School District would likely object to a loss of tax revenue if it went to the Zoo.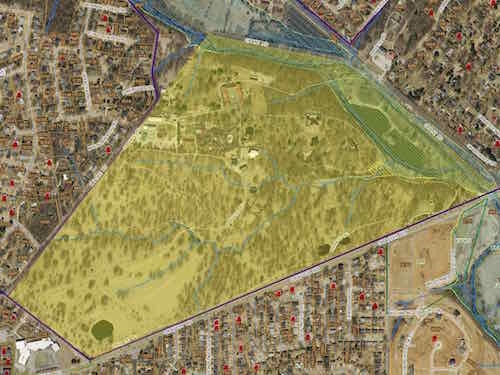 Here are the results of the Sunday Poll:
Q: Six Busch siblings can't agree on Grant's Farm, what would you like to see happen?
William "Billy" Busch buys it, builds Kräftig Brewery on part, allows Zoo to use part. 31 [58.49%]
St. Louis Zoo buys it, the region fund a new sales tax to cover annual operating expenses. 12 [22.64%]
Stay as is, owned by the family trust & operated at an annual loss by AB InBev 9 [16.98%]
Other — county buys, becomes affordable housing: 1 [1.89%]
Sell to a developer for houses &/or retail 0 [0%]
A century ago such a family would've donated the land to the Zoo, along with an endowment to help cover upkeep. Are taxpayers willing to pay to keep this land as an animal preserve? Doubtful. The future seems uncertain.
— Steve Patterson