In September 2010 I posted about the disconnect between a hotel and restaurant in Joplin (see Driving Next Door For Dinner) where I said the design made it difficult if someone wanted to walk next door for dinner after they checked into their room. Last week this hypothetical situation became reality in Amarillo Texas.
I was in Amarillo TX for the funeral of an 80 year old uncle, seven of us were staying in the same Holiday Inn Express. After the service some went back to the hotel to rest, my brother and I to check in. Three other relatives were going to come over to the hotel and the ten of us would walk together to the Texas Roadhouse restaurant, conveniently located right in front. This proved easier said than done.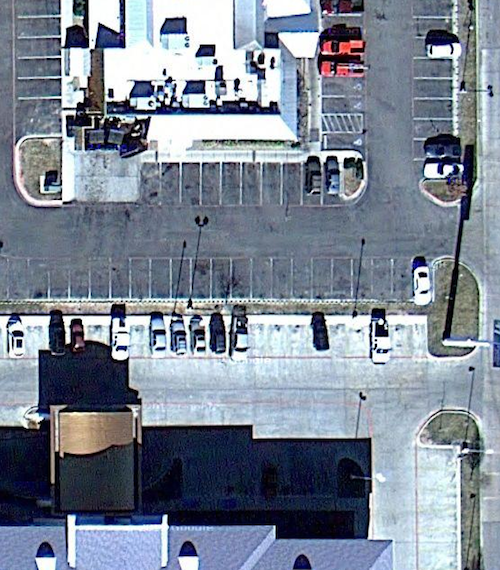 In my family I'm younger than all my cousins — by up to 19 years. Still, I'm the only one that walks with a cane. Our aunts and uncles are now in their 70s and 80s — one aunt will be 90 in a few months. Our group of ten was seven cousins, two aunts & an uncle. An aunt & uncle, both in their 80s,  require help to walk steady on level ground. Especially to cross an obstacle course like the one we encountered.
I suppose the three of us could've gotten in a car to drive from one side of the divider (above) to the other side, but that shouldn't be necessary. The point where we crossed going to dinner the step down from the sidewalk to the grass was taller than most curbs. Returning to the hotel we found a spot that wasn't so bad.  I suppose we could've walked around this barrier but that would've put us in a busy drive and meant walking a greater distance, a problem for all three of us.
We've built so much in every city like this that requires a car to get anywhere, even next door. I hope to live long enough to see the day when this is no longer the norm.
— Steve Patterson