Last month riding on the bus I noticed a pedestrian problem and managed to get a good picture. I emailed the pic to Director of Streets Todd Waeltermann and Board of Public Service (BPS) President Rich Bradley to show them the problem. They quickly saw the problem but told me this was MoDOT, not the city's doing.  Thankfully they contacted the appropriate person at MoDOT and got it fixed within a week.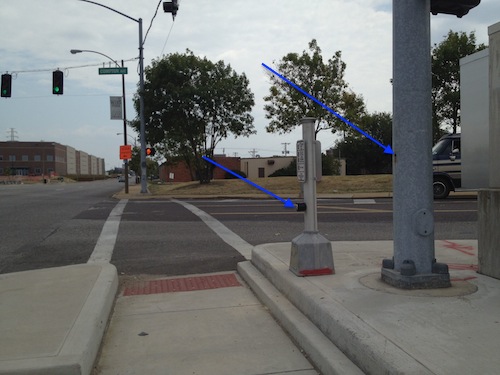 At the end of August I was in the area so I stopped by and checked it out. Yes, I'm now able to reach the buttons to cross both Compton & Chouteau. Thanks Todd & Rich for alerting MoDOT about their error!
At some point I need to devote a whole post to how these islands are being designed now. Used to be a ramp got you up to the curb-high surface,  you crossed, then down another ramp. These had flaws and the new way creates a nice level surface. It hasn't happened to me yet but I can see problems when I encounter someone else in a wheelchair/scooter or even just pushing a baby stroller. Despite having room, there's never a place for one to move out of the way for another to pass.
Before you dismiss this concern know that I often see other users of mobility devices when I'm out and about. As Baby Boomers age I'll see more and more.  Food for thought.
— Steve Patterson