On February 20th I posted out the lack of an ADA Accessible Route in South St. Louis  (see: Poor Pedestrian Accessibly at Saint Louis (Panera) Bread Co on Chippewa St. at Lansdowne Ave). Today I'm happy to report Panera has stepped up and corrected the situation. Here's the before:
I contacted and company and met with District Manager Chris Harre onsite on my birthday, February 28th. On May 1st a building permit application was filed with the city to build an accessible ramp at an estimated cost of $5,000.
When I visited the site late last month workers were still finishing up final details.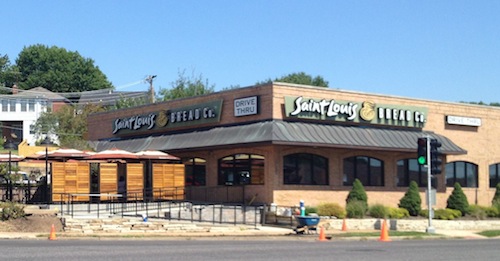 I appreciate that Panera acted quickly once I pointed out the accessibility problem, if only other companies would do the same. Special thanks to District Manager Chris Harre.
— Steve Patterson