I often think drivers need to be retested to understand basics of the road like you stop behind the stop line or yield to pedestrians in the crosswalk. But retesting everyone would be a huge undertaking so based on two experiences at 11th & Washington Ave I say first retest drivers of silver Mercedes cars.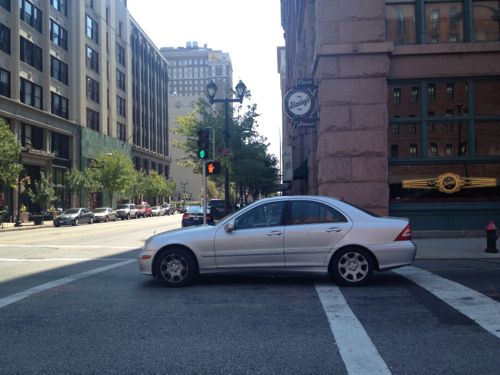 As I crossed 11th I had to go around his car, the ADA ramps are located at the right edge of the crosswalk. I gave him a dirty look and rather than put his car in reverse and back up, he smiled, laughed and flipped me off when he got a green light.
Then last week and unbelievable situation, just as I was entering the crosswalk (with the appropriate crosswalk signal) a Mercedes stops in front of me blocking me from crossing 11th. The driver hadn't seen me because she was looking to the west for a break in traffic so she could turn right onto Washington Ave.
I began speaking loudly and she looked around and noticed me. Startled she lowered her passenger window and asked if I hit her car. No, I replied but I'd like to cross the street while the walk signal is on. "Cause if you hit my car it'll be the last time you do!" Seriously, a woman in a  Mercedes just threatened a disabled guy in a wheelchair!
I was furious both times but this last time I was threatened. I was going to call the police but two blocks closer to home I saw two police officers get in their patrol car. I pull up and explain what happened. I show them the pics and one cop says she knows who the woman is, they'll pay her a visit.
That night I emailed Director of Streets, Todd Waelterman, asking the one spot be changed to a no right turn on red. He's concerned about traffic flow, I'm concerned about crossing the street safely. In the meantime motorists, especially those of you that drive silver Mercedes: The stop line exists for a reason — you're supposed to stop at that line or proceed to make a right turn on red when clear. Clear means no traffic but also no pedestrians trying to cross. Got it?
— Steve Patterson