When I decided to move to St. Louis in August 1990 the street grid was a big factor in that decision. In fact, it's better to say street grids — plural. Rather than a monotonous grid for miles we get many grids at odd angles to each other. The resulting odd-shaped parcels means we have some very unique building shapes — built to fill the lot up to the sidewalk.
One such group made the top of my April 2015 Buildings I'd Like To See Rehabbed post.
Every time I'd pass by on the #74 MetroBus, or drive past, I'd admire the fine proportions. I'd usually take a pic or two.
And then a couple of weeks ago…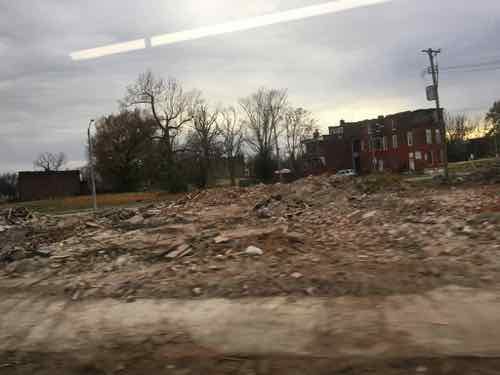 This has been unbelievably depressing. I'm not shocked, I've watched it deteriorate and in September I could see one building had a fire. Others hadn't had a decent roof in years.
These all appear on the October 1909 Sanborn Fire Insurance Maps:
These buildings were all built in 1900-01, with the last in 1908:
4301 Grove Street: 1901
4303 Grove Street/4305-09 N. Florissant Ave: 1900
4311-13 N. Florissant Ave: 1908
4315-17 N. Florissant Ave: 1901
In 2015 I thought there were owned by the City's Land Reutilization Authority (LRA), but that was incorrect. The owner is Citibrook II, L.L.C., formed in January 1998.   It's not clear how long this limited liability corporation has owned these buildings. I still fail to see how tearing down buildings improves neighborhoods.
Hopefully the former Eliot School, across Grove St, will get rehabbed.
At least this property is for sale:
One of W.B. Ittner's original designs, this building is listed on the National Register and would be ideal for housing, assisted living or a medical facility. The school was named for William Greenleaf Eliot, founder of Washington University. (Saint Louis Public Schools)
Asking price is $256,000. Maybe with the nearby group gone a developer will be interested? For more on Eliot School see St. Louis Patina.
— Steve Patterson