When most people see the AT&T office towers at 1010 Pine and 909 Chestnut St. they assume many people work there. The Pine tower is from 1925 and the Chestnut tower was built as the corporate headquarters of Southwestern Bell in 1985, both have just a fraction of the number of employees of even just 5 years ago.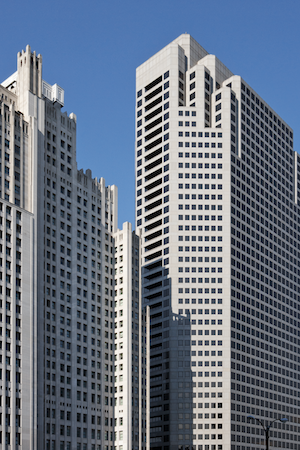 Two issues: how AT&T reduced the workforce without public layoff notices and the implication for other downtown St. Louis businesses nearby.
Former and current employees tell the same story about how AT&T avoided having to issue layoff notices as required by the 1988 WARN Act. From one source:
AT&T has done a number of outsourcings since 2006-ish to different companies include Accenture, IBM and Amdocs. I was part of a 1,000 person division in IT which was outsourced to Amdocs in 2008.

We were given a very last minute notice about a mandatory meeting in February, 2008 in the Data Center auditorium where we were told we were being outsourced to Amdocs. Our pay & benefits (health insurance, vacation, etc.) were kept the same, with the exception of our pension as Amdocs did not have a pension plan. Instead, we were given an additional 5% match to our 401k. We still worked for the same boss (the outsourcing went up to the VP level, in my instance), at the same desk, doing the same work. The only difference is that our paycheck was coming from Amdocs.

In early February 2009, we received another mandatory meeting invite for the employees in my group. In the data center auditorium, an Amdocs manager (from a different division, located in Champaign, who none of us had ever met) read a prepared statement stating that layoffs were necessary because the amount of work assigned to our group was falling short of what was anticipated at the time of the outsourcing. We should return to our desks and those employees being let go would receive an email while those not being let go would not. About an hour later, I received an email indicating I would be laid off on February 26, 2009. Approximately 500 of the 1000 people in my group were laid off in total.

The significance of that date? It was one year and one day after we had been outsourced to Amdocs. The contract between Amdocs and AT&T specified any employees laid off in the year following the outsourcing would be given severance at the AT&T rate (4% of salary per year of employment). After that date, severance would be paid at the Amdocs rate (1 week per year of employment). To rub salt in the wound, our final paychecks contained pay for 72 hours as we were let go on a Thursday and worked only 9 days out of the 10 day pay period (rather than the usual 86 2/3rs hours as salaried employees).
My source indicated Amdocs issued WARN Act notices in California, where they have stricter requirements, but AT&T and contractors avoided having to announce reductions in St. Louis.
In August 2009 our downtown grocer, Culinaria, opened for business. A year later businesses on the one block of 9th between AT&T and Culinaria  were closing due to lack of customers. Culinaria was blamed but one person I spoke with says this was the height of the reductions.
To make matters worse for nearby businesses, many of the remaining employees telecommute from home rather than come into the office.  Reduced property taxes is another issue:
Inland's affiliate, MB St. Louis, convinced St. Louis assessor Ed Bushmeyer that the AT&T tower is now worth just $135 million – about $70 million less than what it sold for in 2006.

Jerome Wallach, an attorney for MB St. Louis, argues that the building's value plummeted because AT&T has slashed the size of its workforce there, and low occupancy cuts the building's market value. The owner would have difficulty selling the half-full building for an attractive price when AT&T's lease expires in 2017, he added.

But the building is not for sale now, Wallach acknowledged, nor has MB St. Louis given AT&T any rent breaks on the property because of its diminished presence. Wallach argues the rent shouldn't factor into assessed value, which should be based on what it might sell for now in its half-full state. (stltoday.com from April 2012)
No doubt AT&T plans to completely vacate the 909 Chestnut building after their lease expires, in the meantime the numbers of employees at both buildings will continue to dwindle.
— Steve Patterson