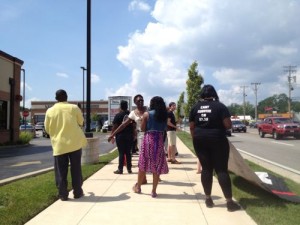 Readers split on the question of raising the minimum wage in St. Louis.  Here are the results of the Sunday Poll:
Q: A bill introduced Friday would raise the minimum wage in St. Louis to $10/hr, with annual increases of $1.25/hr until reaching $15/hr in 2020. I…
Strongly support 12 [25.53%]
Oppose 11 [23.4%]
Support 10 [21.28%]
Strongly oppose 9 [19.15%]
Neutral 3 [6.38%]
Unsure/no opinion 2 [4.26%]
Support narrowly edged opposition 22-20.  The common argument against raising the minimum wage is that doing so would lead to inflation. That's interesting, because the minimum wage hasn't kept up with inflation:
Myth: The federal minimum wage goes up automatically as prices increase.

Not true: While some states have enacted rules in recent years triggering automatic increases in their minimum wages to help them keep up with inflation, the federal minimum wage does not operate in the same manner. An increase in the federal minimum wage requires approval by Congress and the president. However, in his call to gradually increase the current federal minimum wage to $10.10 per hour, President Obama has also called for it to adjust automatically with inflation. Eliminating the requirement of formal congressional action would likely reduce the amount of time between increases, and better help low-income families keep up with rising prices.
Myth: The federal minimum wage is higher today than it was when President Reagan took office.

Not true: While the federal minimum wage was only $3.35 per hour in 1981 and is currently $7.25 per hour in real dollars, when adjusted for inflation, the current federal minimum wage would need to be more than $8 per hour to equal its buying power of the early 1980s and more nearly $11 per hour to equal its buying power of the late 1960s. That's why President Obama is urging Congress to increase the federal minimum wage and give low-wage workers a much-needed boost. (Minimum Wage Mythbusters — U.S. Dept of Labor)
Not raising the minimum wage means these people find it harder and harder to survive each year as most everyone else gets raises, and groceries and other goods go up in cost. People are also focusing on $15/hr — that rate isn't happening soon anywhere — increases will be gradual:
Among the cities that have enacted even higher local minimums are San Francisco ($15 by 2018), Seattle ($15 by 2021), Chicago ($13 by 2019) and Washington, D.C. ($11.50 by 2016), according to the National Employment Law Project. (5 facts about the minimum wage — Pew Reseach)
I hope this bill passes.
— Steve Patterson