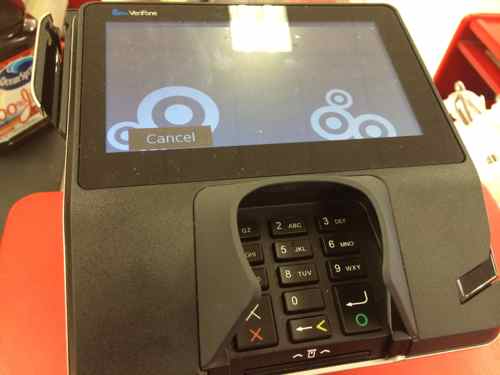 Our current credit & debit cards are different than they were decades ago. In the mid-80s, during high school & college, I worked at Toys "R" Us and Dillard's. In those days we made an impression of the credit card to document the transaction, the credit card number was entered manually to get approval. Sometimes we had to call in to get an authorization number.
The magnetic strip on credit cards came later, greatly simplifying transactions.   The technology was developed in the late 60s, but it took a long time to get ir on credit cards and for retailers to be equipped to swipe cards rather than complete an embossed charge receipt. Eventually the magnetic strip became ubiquitous. Criminals also found many ways to exploit the weaknesses.
The magnetic stripe on credit cards — which fraudsters can pull credit card numbers and expiration dates from to make counterfeit cards. (NPR)
NPR continues:
Other countries moved beyond this technology years ago. The U.K., Canada and Hong Kong are already using chip-based cards, which are considered more secure. (Magnetic stripe technology is decades old.) Cards using the chip-and-PIN system have an embedded microchip. Instead of swiping the part with a magnetic stripe, you put the card into a terminal, then enter a PIN or sign your name. It's more expensive for criminals to forge these cards, says Brian Krebs, a security journalist who writes for Krebs on Security and broke the story on the breach at Target.
Several of our cards have the new chips, called EMV:
EMV chip technology is becoming the global standard for credit card and debit card payments. Named after its original developers (Europay, MasterCard® and Visa®), this technology features payment instruments (cards, mobile phones, etc.) with embedded microprocessor chips that store and protect cardholder data. This standard has many names worldwide and may also be referred to as: "chip and PIN" or "chip and signature." (Chase)
In 2013 local grocery chain Schnucks was breached, leading many to stolen credit card numbers. National retailers were also hacked. October 1, 2015 — today — was set as a deadline to switch to the EMV cards. However, this wasn't a government mandate.
After an Oct. 1, 2015, deadline created by major U.S. credit card issuers MasterCard, Visa, Discover and American Express, the liability for card-present fraud will shift to whichever party is the least EMV-compliant in a fraudulent transaction. (CreditCards.com)
So retailers have been updating their credit card terminals to prepare for today's deadline. Yesterday, at IKEA, the restaurant cashier put my EMV-chip card in the slot rather than swipe it. Later, at FedEx Office (aka Kinko's) the terminal had the slot but the employee didn't know when it would be activated. Target recently sent us new EMV RedCard debit cards — but not the RedCard credit cards we currently use.  We just got a new credit card within the last couple of weeks — it didn't include an EMV chip. Yesterday the issuer said we'd have replacements by the end of October with EMV chips.
Some retailers, in updating their terminals, have added NFC/contactless capability.
NFC (near-field communication) allows two devices placed within a few centimeters of each other to exchange data. In order for this to work, both devices must be equipped with an NFC chip. 

In the real world, there are a essentially two ways this works. 

Two-way communication: This involves two devices that can both read and write to each other. For example, using NFC, you can touch two Android devices together to transfer data like contacts, links, or photos. 

One-way communication: Here, a powered device (like a phone, credit card reader, or commuter card terminal) reads and writes to an NFC chip. So, when you tap your commuter card on the terminal, the NFC-powered terminal subtracts money from the balance written to the card. (CNET)
My husband's iPhone has been able to utilize this technology for payment for a year, I just got a new iPhone with this ability — ApplePay. Others include Google Pay & Samsung Pay. Confused yet?
Basically you want to avoid your cards being swiped. You want to use cards with a chip by inserting them in the chip readers. Not all retailers have to meet today's deadline. Gas pumps, for example, have until 2017 to be updated.
If you accept credit cards you need to be working on updating ASAP, and training staff to insert EMV cards rather than swipe them. If you use plastic, be aware of the differences and how to use them, If your smartphone can make contactless payments I'd suggest using that. Samsung Pay will even work with older magnetic stripe terminals.
While we have these new EMV cards, our issuers don't yet have the PIN number portion set up, so they're Chip & signature for now.
— Steve Patterson