It has been nearly a decade since the ribbon was cut on Citygarden, a popular 2-block oasis in downtown St. Louis:
Two blocks in downtown St. Louis have been transformed into something unlike anything else in the country. Those two blocks, now called "Citygarden," feature two dozen works of modern and contemporary sculpture in a completely accessible setting.

The sculptures have been sited in a series of outdoor spaces designed by Nelson Byrd Woltz, of Charlottesville, VA. The garden has been conceived as a kind of oasis, welcoming everyone and eager to interact with everyone. There are no "Do Not Touch" signs on any of the sculptures. Children will be free to run and play in a "spray plaza" featuring 102 separate jets of water in shifting, computer-controlled, color-lit patterns.

The garden represents a partnership between the City of St. Louis, which owns the land, and the Gateway Foundation, which had provided the funding – an estimate $25 million, covering design and construction, state-of-the-art lighting, ongoing maintenance, security, and insurance expenses. The cost of the sculpture, which is and will remain owned by the Foundation, is separate. (Gateway Foundation)
Citygarden has been a huge hit, getting lot of positive attention for St. Louis, and winning awards.
The next block to the west, across 10th Street, has held Richard Serra's "Twain' sculpture for decades. In contrast, it's very sad.
At 5pm today the Gateway Foundation & Sheldon will announce a joint project — turning the block west of Citygarden into a mini golf course. Don't laugh, pop-up mini golf has become very popular in many cities lately, such as Springfield, Missouri. My hometown of Oklahoma City has a permanent mini golf course in their popular Bricktown area.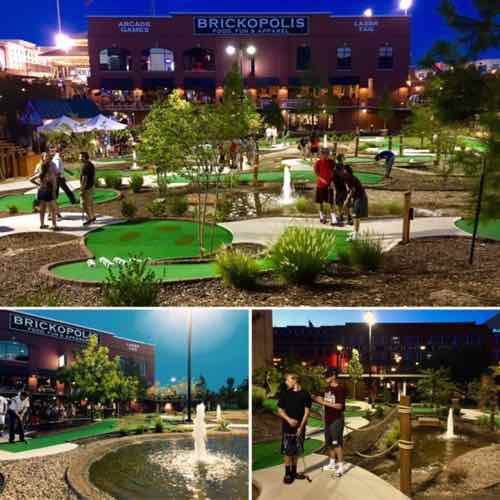 The push for a permeant art golf experience came after the June 2018 indoor pop-up golf at the Sheldon.
St. Louis' newest mini-golf course is a far cry from any regular golf course. Starting Sunday and through Aug. 12, you can play nine artist-designed holes at "Golf the Galleries," a new indoor exhibit at the Sheldon Concert Hall & Art Galleries.

Golfers can knock a colored ball through a black-lit rainbow, a volcano made of packing peanuts and a model of the revamped Gateway Arch National Park.

In between swings, visitors can study prints by photographer Simon Martin that show mini-golf courses in the United Kingdom and a selection of mini-mini-golf hole dioramas made by fifth-grade math students at the Wilson School in Clayton. (Post-Dispatch)
The exhibit was
The Gateway Foundation/Sheldon proposal includes creating a permanent outdoor version on the block bounded by Market, 11th, Chestnut, and 10th. Seventh Ward Alderman Jack Coatar will introduce enabling legislation when the Board's new session begins after Tuesday's general election.
I've been one of the few trying to revamp the block with Serra's 'Twain', but nobody is interested in saving it. If this happens at least the block will become an active space.
— Steve Patterson