This year two competing outlet malls opened in the Chesterfield valley, not far from each other. I had a chance recently to visit both by car, a rental. I'd hoped to visit one or both via MetroBus so I could have my wheelchair.  Before you question the idea, the #258 MetroBus stops in the valley every 20-60 minutes weekdays.
The two opened three weeks apart:
Taubman Prestige Outlets on August 2, 2013
St. Louis Premium Outlets on August 22, 2013
There was debate about St. Louis being able to support two outlet malls just 4+ miles apart, in addition to the existing St. Louis Outlet Mall in Hazelwood that opened in November 2003. For now I'll focus on the two new outlets by Taubman and Simon Properties:
Both developers are publicly traded companies with impressive track records in the retail world. But Simon, the largest U.S. shopping mall owner, has been in the outlet business a lot longer.

Linda Humphers, who tracks the outlet mall industry for the International Council of Shopping Centers as editor of Value Retail News, noted that Simon has more than 60 outlet centers in the U.S. compared to basically two for Taubman. (Taubman and Simon both have many full-priced malls in their portfolios.) (stltoday.com)
Taubman, the underdog, opened first. Like many, I tend to lean in favor of the underdog. But I knew that many shoppers more impressed by Chesterfield's second outlet mall. With all this background I visited both, in the order they opened, on Monday October 28th. Again, I drove a rental car we had for the weekend because both would require using the shoulder for the mile from the closest bus stop.
Similarities:
Highly visible from I-64
Site was underwater during the Flood of 1993
Primarily internally focused
Upscale/desirable retail outlets
Multiple entrance points from parking lot
One level, open air design
Indoor, centrally-located, food court
Green design elements like rain gardens to handle water runoff
For the differences many have focused on the number & importance of stores, but I'm not going to debate Ralph Lauren (Taubman) vs Coach (STL Premium). My focus is on the layout, approach, physical design, etc.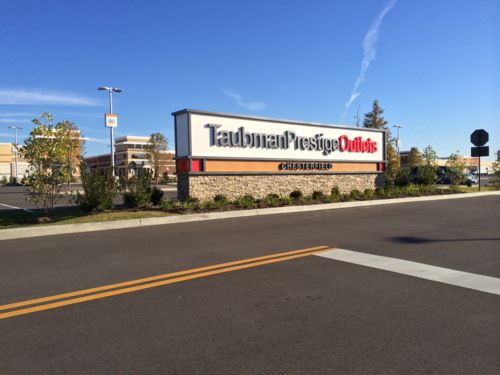 My Conclusions
Both malls will do fine initially, but the smaller Taubman mall will fade out quicker. It feels smaller, less generous, since it's shoehorned in between the highway and a levee. It won't close  for many years, it'll just be the less desirable outlet mall, though still ahead of Hazelwood's decade-old St. Louis Outlet Mall.
The St. Louis Premium Outlets area will get built up over the next 5-10 years, hotels, restaurants and other retail will be added. They've planned ahead so as it gets built out it'll be connected by a sidewalk network. Nothing you'd call super walkable, but minimally acceptable. The location is right as you enter from St. Charles County, so it's convenient to many.
— Steve Patterson