In early November I visited the site of a new grocery store opening on January 4th, Fields Foods.  I was disappointed with respect to pedestrian access:
I'm very glad to see the store nearing completion. It'll provide needed jobs, though jobs may be lost elsewhere as people change where they buy groceries. Sadly, it doesn't appear any consideration to the many who will arrive daily on foot, some pushing strollers, and even the occasional wheelchair user. <snip>

Hopefully, somehow, I'll be proven wrong when the grocery store opens January 4th.
I visited again last Thursday, and with the site work done I can say it isn't what I expected: it's both better and worse!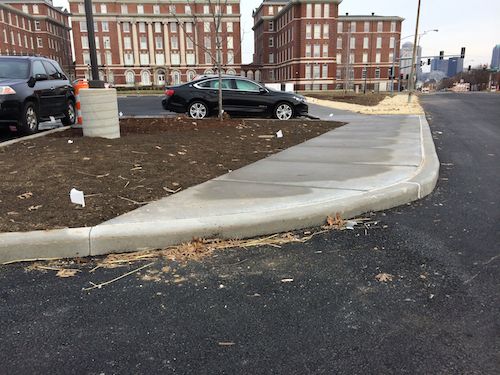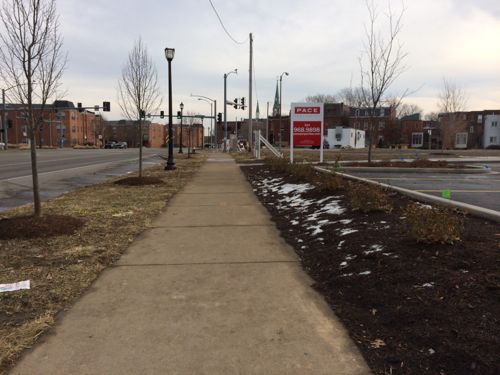 Last Thursday I contacted several St. Louis officials to alert them to the issues I discovered. I suggested they withhold the occupancy permit until the walkway is retrofitted to be ADA-compliant with a curb ramp, crosswalk, and curb ramp on the building side. Providing pedestrian access not accessible to all is a very clear ADA violation.  I gave my card to the BSI employee I talked to last week, he said he'd give it to the owner. I've not heard back from anyone.
It would've been fairly easy to design & build this to be highly accessible/walkable from all directions, new construction shouldn't need to be retrofitted. When the city is vacating public streets pedestrian access from that direction should be provided.
The parties involved in the project are collectively incompetent with respect to pedestrian access. The ADA is more than grab bars in the bathroom. I'll be there on January 4th to see if the situation is improved.
— Steve Patterson
UPDATE 12/23/2013 @ 9:45am — I just talked with Fields Foods owner Chris Goodson, he said workers are correcting the situation. The sidewalk shown wasn't part of the original design, it was added after the fact after my November post.