For most of the 16 years on this blog I've often used a vintage photo, below, when posting about local elections.
Though I'd been using this photo I didn't know anything about it. From the cars I knew not only was it from before I arrived in St. Louis (August 1990) but before I was born (February 1967). I also knew I'd never been to this building, the only location of the Board of Election Commissionrs I'd ever visited was the current, 300 North Tucker.
Another photo I use often for election-related posts:
Not sure where I registered to vote, but my first time going to the election board offices was in January 2005 when I filed to run for alderman — at 300 North Tucker.
Recently I was more and more curious about that vintage photo, so I contacted a lifetime resident who is a St. Louis political encyclopedia. He suggested I look in the book "We Elect! The Story of St. Louis Government and Politics", published by the St. Louis Public Schools in 1967. I received a copy years ago as part of the Beckerle collection.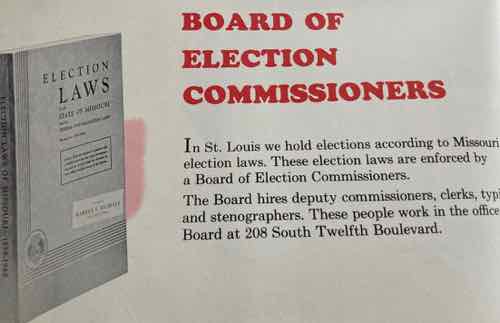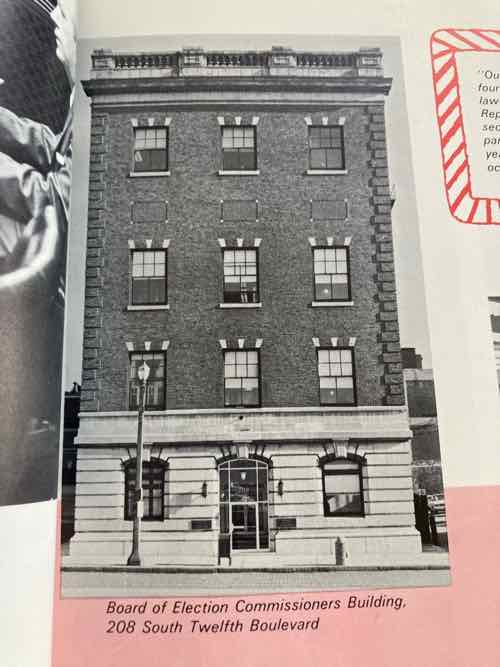 So now I know the address but that didn't tell me when they moved out of the building and why. Was the building built for them or a previous occupant? I know the new city jail currently occupies that and additional land.
Let's begin with the election board moving into the current location, 300 North Tucker. Thankfully St. Louis Library members can search Post-Dispatch archives online.
An August 1998 article (8/27/1998, p18) indicated the move from 208 South Tucker to 300 North Tucker will happen in December. A December 6, 1998 article indicated the move would happen on December 14, 1998. The earlier article mentions 208 South Tucker is 91 years old. Both articles indicate the election board moved in during the 'late 1930s." They got the decade right, the 1930s. But it wasn't late in the decade — it opened on February 12, 1932 (P-D page 14 of 48).
The Post-Dispatch in 1998 said it was 91 years old, so built in 1907 — if they got that research right. That means the building was roughly a quarter century old. Who was the previous occupant?
The headline gave away the answer, the building was previously police headquarters. Growing city outgrew the police headquarters just a couple of decades after building it? Not exactly. As part of young Harland Bartholomew's plan, the 12th right-of-way would be widened from 60 feet to a massive 150 feet, 40 feet would come from the east side of 12th. In 1919 a condemnation suit began to take the 40 feet from property owners.  Police would lose the front 40 feet of their headquarters, only 12 years old.
By March 18, 1926 a site for a new headquarters was secured on the southwest corner of 12th & Clark — consolidated from 18 owners.  That headquarters opened in late 1928 or early 1929.
The headquarters that became the board of elections was opened in August 1907, after a long delay. Three residences were bought and razed to construct the building.
Original plans called for the police department to occupy half the basement of the new city hall, but that was scrapped once the decision was made to make the basement ceilings only nine feet high.  Police would need to stay across the street at "four courts" building. Prior to Bartholomew's arrival they already had plans to widen 12th, not sure how much. (P-D 4/24/1898, p9).
In July 2014 the St. Louis police headquarters moved again, this time to a renovated office building on Olive between 19th-20th.
— Steve Patterson