Last month I told you about my Megabus trip to Dallas & back, see Thirty Hours on Megabus: St. Louis to Memphis to Little Rock to Dallas & Back. Today I want to tell you about one of the things I did in the week I was there: I rode their newest public transit line — it opened just two weeks before I arrived!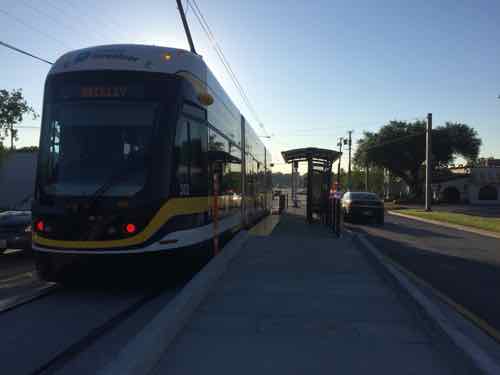 Dallas' light rail system includes 4 lines, 62 station, a total of 90 miles (source). Our light rail, MetroLink, has two lines, 37 stations, and is 46 miles in total length (source).  But the newest rail line in Dallas isn't more light rail — it's a modern streetcar line connecting downtown Dallas across the Trinity River to the Oak Cliff neighborhood:
More than five years in the making, the 1.6-mile line stretches from near Union Station downtown to the intersection of Beckley Avenue and Colorado Boulevard, near Methodist Dallas Medical Center in Oak Cliff.

A group of Oak Cliff leaders — including Luis Salcedo, Jason Roberts and Griggs before his council election – laid the project's foundation as members of the Oak Cliff Transit Authority.

A $23 million federal stimulus grant in February 2010 brought the city, Dallas Area Rapid Transit and the North Central Texas Council of Governments together as project partners. The city owns the line, DART will operate it and the council of governments has been the funding conduit.

An additional $3 million in stimulus money, the allocation of regional toll-road revenue and other funding covered what has become a $50 million investment, with plans for expansion. (Dallas Morning News)
See DART Streetcar. Why didn't they just build another light rail line? Or even a BRT (Bus Rapid Transit) line?  A light rail line would've been far more expensive to build, it likely couldn't have crossed a historic bridge over the Trinity River the way the streetcar does. It's important to note the costs are for the initial system — over a historic viaduct crossing the now-flooding Trinity River. New extensions will be far less costly per mile.
From 2014:
Officials have spent almost a decade planning improvements to public transportation downtown. The matter became more urgent after Dallas Area Rapid Transit's light-rail system reached critical mass. That 85-mile network connects downtown to the suburbs in all directions. The trains run along downtown's edges, but not deep into its business, government and entertainment hubs.

"The conversation came up that LRT will take care of regional transportation. But what about in and around downtown?" Manoy said.

That's when the idea of electric streetcars started to gain momentum. Like most transportation hopes, funding didn't match ambitions. For years, planners navigated a series of route ideas, grant applications and shifting bureaucratic priorities. (Dallas Morning News)
Dallas planners see the streetcar connecting the dots — eventually a highly visible line in the heart of their downtown — connecting light rail to the CBD and other districts.
Of course, their streetcar had its critics. From 2013:
The problem is that Dallas sprawls too much to make rail-based streetcars a feasible solution. To solve our public transportation problem, Dallas ought to stop looking at models like Portland, Oregon, and look at cities that more closely resemble Dallas, places like Bogota, Colombia. Bogota has become a darling of the new urbanism crowd in the last decade thanks to its development of a Bus Rapid Transit (BRT) system. 

Don't be thrown by the B-word. Rather than a snaking web of indecipherable bus lines, like Dallas currently has, BRT systems use designated lanes, timed traffic lights, and painted ground areas to give pedestrians visual understanding of where routes go. BRT vehicles are faster, more comfortable, and more reliable than buses. And here's the best part: for the cost of the Oak Cliff streetcar, Dallas could build a complete BRT system covering the entire city. 

Roberts likes the idea of a BRT system in Dallas, but he says it has to be perfect or it won't work, pointing to Los Angeles' BRT attempt, which hasn't had the same impact as systems in Bogota and Ottawa, Ontario. (D Magazine)
So I got to ride it just two weeks after opening, I've also seen where it'll be extended to.
The area is charming — once you get to it!
The Bishop Arts District is home to over 60 independent boutiques, restaurants, bars, coffee shops, theaters and art galleries. Located in the heart of North Oak Cliff, one of Dallas' most unique neighborhoods. A historical shopping district full of great finds, good eats, and good ole Oak Cliff charm! The Bishop Arts District is made up of many independently-owned shops and eateries that maintain various hours. While many of the shops stay open late on the weekends to provide a fun shop, stroll, and eat environment for visitors, the Bishop Arts District is populated with many independently-owned businesses, so please contact them directly for their hours of operation. Wine Walks are held 3-4 times a year and on 1st Thursdays of a given month. (Bishop Arts District)
I took the free D-Link bus back downtown. For now the streetcar is also free, operating weekdays only. Once extended it'll have longer hours and weekend service.
Again, Oak Cliff is very close to downtown Dallas but it's geographically separated by the Trinity River  — in the news lately because of the flooding:
To my knowledge the streetcar line is dry, but the D-Link bus route might be impacted by road closures due to high water. The good thing about Dallas is they actually expand their transit systems, so I look forward to returning every few years to see the resulting development — if any.
— Steve Patterson