Last week our transit agency, Metro, released its first mobile app — called Metro On The Go:
You asked for a Metro app — and now you have it! Metro On The Go, the official mobile application of Metro transit, is now available. You can download it for free from the Apple App Store and the Google Play Store.

Metro On The Go lets you plan your trip on Metro transit, check schedules for MetroLink and all 75 MetroBus routes, and tap into real-time vehicle data so you can see when the next bus will arrive — all from the palm of your hand. (NextStopSTL)
The app is available for Android & iOS mobile devices. I'll share my thoughts on the iOS version later in this post, but first I want to bring up an issue before others do. Some may say things like "not everyone has a smartphone", "not everyone can afford a smartphone", "this is elitist", etc.  These people likely have broadband at home and choose to not have a smartphone — for others the reverse is the case:
10% of Americans own a smartphone but do not have broadband at home, and 15% own a smartphone but say that they have a limited number of options for going online other than their cell phone. Those with relatively low income and educational attainment levels, younger adults, and non-whites are especially likely to be "smartphone-dependent." (Pew Reseach — U.S. Smartphone Use in 2015)
From the same source:
Lower-income smartphone owners are especially likely to use their phone during a job search. Compared with smartphone owners from households earning $75,000 or more per year, those from households earning less than $30,000 annually are nearly twice as likely to use a smartphone to look for information about a job — and more than four times as likely to use their phone to actually submit a job application.

Similarly, "smartphone-dependent" users are much more likely to use their smartphones to access career opportunities. 63% of these smartphone-dependent users have gotten job information on their phone in the last year, and 39% have used their phone to submit a job application.

Young adults (85% of whom are smartphone owners) are also incorporating their mobile devices into a host of information seeking and transactional behaviors. About three-quarters of 18-29 year old smartphone owners have used their phone in the last year to get information about a health condition; about seven-in-ten have used their phone to do online banking or to look up information about job; 44% have consumed educational content on their phone; and 34% have used their phone to apply for a job.
The app can be useful, but is it? In short — yes! In just days my initial complaint has already been addressed.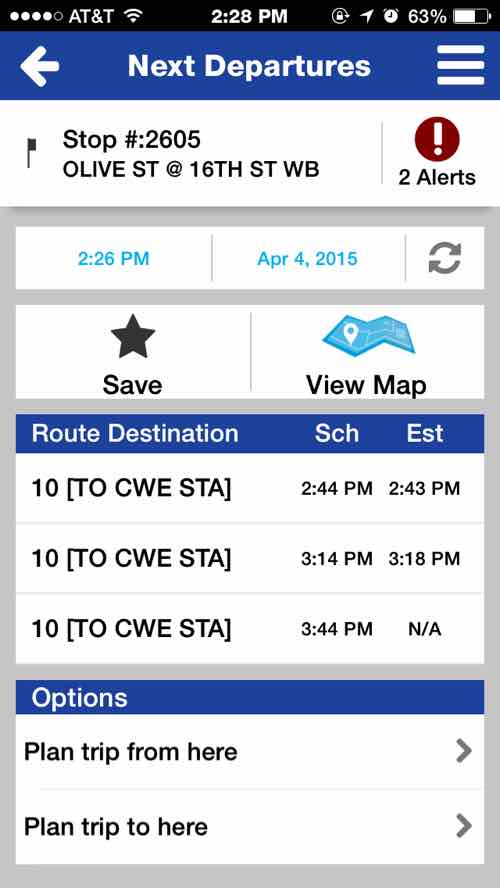 I wasn't able to test the Android version, my husband went back to iOS in the Fall of 2013.  The 'Trip Planner' isn't as responsive as the Google Maps app. Still, for most of my transit use I need to know the next departure of the #10 at 16th & Olive or the #97 at 16th & Washington. This will come in handy when I'm at places and want to know when the next return bus home arrives.  Thanks Metro!
— Steve Patterson