Book publisher Island Press always impresses me with thoughtful new books written by people working to solve current problems — the subjects are important ones for urbanists and policy makers to be familiar and actively discussing. These four books are presented in the order I received them.
'Justice and the Interstates: The Racist Truth About Urban Highways' edited by Ryan Reft, Amanda K. Phillips De Lucas, and Rebecca C. Retzlaff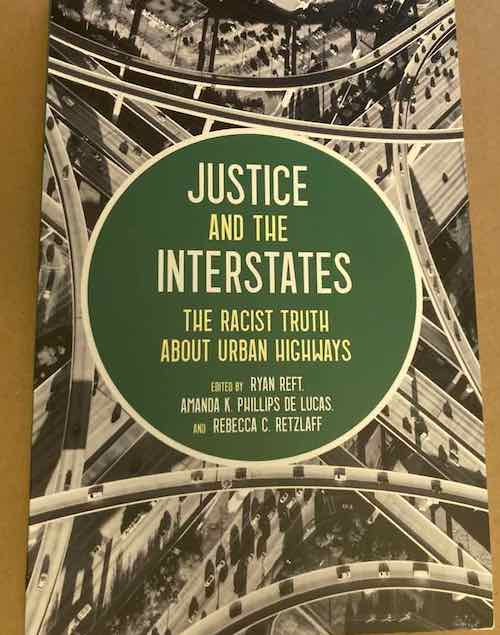 When the U.S. interstate system was constructed, spurred by the Federal Aid Highway Act of 1956, many highways were purposefully routed through Black, Brown, and poor communities. These neighborhoods were destroyed, isolated from the rest of the city, or left to deteriorate over time.

Edited by Ryan Reft, Amanda Phillips de Lucas, and Rebecca Retzlaff, Justice and the Interstates examines the toll that the construction of the U.S. Interstate Highway System has taken on vulnerable communities over the past seven decades, details efforts to restore these often- segregated communities, and makes recommendations for moving forward. It opens up new areas for historical inquiry, while also calling on engineers, urban planners, transportation professionals, and policymakers to account for the legacies of their practices.

The chapters, written by diverse experts and thought leaders, look at different topics related to justice and the highway system, including:
• A history of how White supremacists used interstate highway routing in Alabama to disrupt the civil rights movement
• The impact of the highway in the Bronzeville area of Milwaukee
• How the East Los Angeles Interchange disrupted Eastside communities and displaced countless Latino households
• Efforts to restore the Rondo neighborhood of St. Paul

Justice and the Interstates provides a concise but in-depth examination of the damages wrought by highway construction on the nation's communities of color. Community advocates, transportation planners, engineers, historians, and policymakers will find a way forward to both address this history and reconcile it with current practices.

Island Press
Eisenhower's original vision for interstate highways connecting different metropolitan areas didn't include them slicing through and dividing urban centers, but racist white civil engineers born in the 19th century, like Harland Bartholomew in St. Louis and Robert Moses in New York, were able to successfully lobby for them to tear right through cities so they'd have access to hundreds of millions of dollars "renew" old cities. But renewal meant destruction of everything in sight, making life easier for suburbanites crowding streets with their cars, destroying thriving minority neighborhoods along the way. Cities like St. Louis are still suffering from their decisions, the interstates still divide.
'The Freedom of the City' by Charles Downing Lay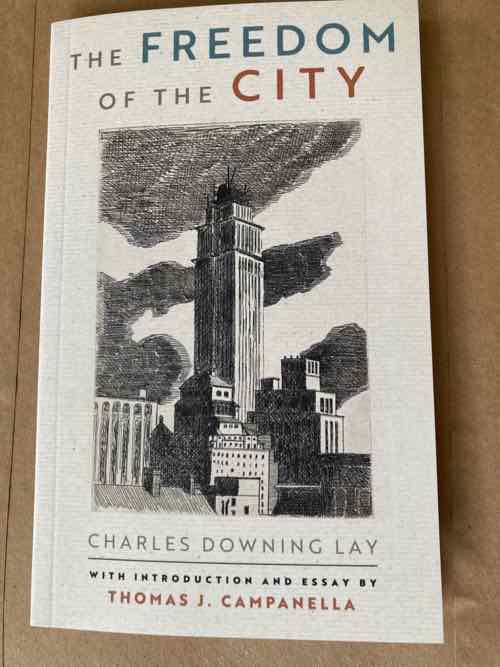 "Congestion is the life of the city . . . it is what we came for, what we stay for, what we hunger for", wrote Charles Downing Lay, prominent American landscape architect and planner of the early 1920s. These words are relevant today as density and congestion are once again under siege, especially in our most productive and thriving cities.
 
Published in 1926, The Freedom of the City by Charles Downing Lay is an eloquent and timely defense of urbanism and city life. Award-winning author and urban historian Thomas J. Campanella has given Lay's text new life and relevance, with the addition of explanatory notes, imagery, an introduction, and biographical essay, to bring this important work to a new generation of urbanists. 
 
Lay was decades ahead of his time, writing The Freedom of the City as Americans were just beginning to fall in love with the automobile and leave town for a romanticized life on the suburban fringe. Planners and theorists were arguing that heavily congested cities were a form of cancer, that great metropolitan centers like London and New York City must be decanted into a leafy "garden cities" in the countryside. Lay saved his sharpest pen for these anti-urbanists in his own profession of city and regional planning.
 
Lay writes of the delights of city life and—especially—that importance of the singular, essential ingredient that makes it all possible: "congestion" (closest in definition to "density" today). Congestion, to Lay, is the secret sauce of cities, the singular element that gives London, Paris, or New York its dynamism and magic. He believed that the amenities and affordances of a city are "the direct result of its great congestion"; indeed, congestion is "the life of the city. Reduce it below a certain point and much of our ease and convenience disappears.
 
Campanella writes "for all his blind spots, Lay's core argument still obtains. The Freedom of the City was prescient in 1926 and timely now. Certainly, the essentials of good urbanism extolled in the book—human scale, diversity, walkability, the serendipities of the street; above all, density—are articles of faith among architects and urbanists today."

Island Press
I'd never heard of Charles Downing Lay before receiving this book, it's nice to know at least one white male born in the 19th century was writing about the wonderful qualities of life in the city.
'Smaller Cities in a Shrinking World: Learning to Thrive Without Growth' by Alan Mallach
Over the past hundred years, the global motto has been "more, more, more" in terms of growth – of population, of the built environment, of human and financial capital, and of all manner of worldly goods. This was the reality as the world population boomed during the 1960s and 1970s. But reality is changing in front of our eyes. Growth is already slowing down, and according to the most sophisticated demographers, the earth's population will begin to decline not hundreds of years from now, but within the lifetimes of many of the people now living on the planet.
 
In Smaller Cities in a Shrinking World, urban policy expert Alan Mallach seeks to understand how declining population and economic growth, coupled with the other forces that will influence their fates, particularly climate change, will affect the world's cities over the coming decades. What will it mean to have a world full of shrinking cities? Does it mean that they are doomed to decline in more ways than simply population numbers, or can we uncouple population decline from economic decay, abandoned buildings and impoverishment?
 
Mallach has spent much of the last thirty or more years working in, looking at, thinking, and writing about shrinking cities—from Trenton, New Jersey, where he was director of housing and economic development, to other American cities like Detroit, Flint, and St. Louis, and from there to cities in Japan and Central and Eastern Europe. He has woven together his experience, research, and analysis in this fascinating, realistic yet hopeful look at how smaller, shrinking cities can thrive, despite the daunting challenges they face.

Island Press
Shrinking cities, declining population, etc it's no wonder St. Louis city is included — but the entire St. Louis metropolitan area on both sides of the Mississippi River is a low/no growth area. We need to stop thinking problems only exist within the 1876 border of the namesake city, we need to figure out how to get our entire region to thrive without growth from new population. Sorry, new residents in Wentzville that move from St. Charles or north/west St. Louis County isn't growth — at least not on the regional level.
'Inclusive Transportation: A Manifesto for Repairing Divided Communities' by Veronica O. Davis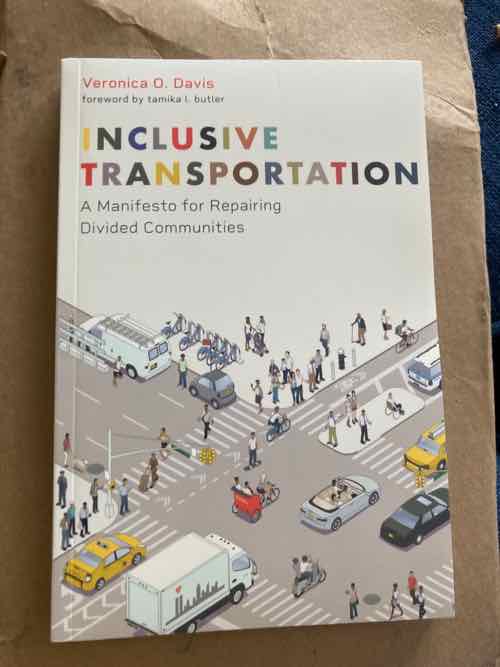 Transportation planners, engineers, and policymakers in the US face the monumental task of righting the wrongs of their predecessors while charting the course for the next generation. This task requires empathy while pushing against forces in the industry that are resistant to change. How do you change a system that was never designed to be equitable? How do you change a system that continues to divide communities and cede to the automobile?

In Inclusive Transportation: A Manifesto for Repairing Divided Communities, transportation expert Veronica O. Davis shines a light on the inequitable and often destructive practice of transportation planning and engineering. She calls for new thinking and more diverse leadership to create transportation networks that connect people to jobs, education, opportunities, and to each other.

Inclusive Transportation is a vision for change and a new era of transportation planning. Davis explains why centering people in transportation decisions requires a great shift in how transportation planners and engineers are trained, how they communicate, the kind of data they collect, and how they work as professional teams. She examines what "equity" means for a transportation project, which is central to changing how we approach and solve problems to create something safer, better, and more useful for all people.

Davis aims to disrupt the status quo of the transportation industry. She urges transportation professionals to reflect on past injustices and elevate current practice to do the hard work that results in more than an idea and a catchphrase.

Inclusive Transportation is a call to action and a practical approach to reconnecting and shaping communities based on principles of justice and equity.

Island Press
As we think about light rail expansion in the city & north county it's an opportunity to put this manifesto into practice.
— Steve
————————————————————————
St. Louis urban planning, policy, and politics @ UrbanReviewSTL since October 31, 2004. For additional content please consider following on Facebook, Instagram, Mastodon, Threads, Bluesky, and/or X (Twitter).