After 25 years the Forest Park-DeBaliviere MetroLink (light rail) station may finally be getting new higher-density development. From last week:
An Indianapolis developer plans to transform the block around the Forest Park-DeBaliviere MetroLink station with a $70 million development adding 265 apartments and 34,000 square feet of retail.

The Bi-State Development Board of Commissioners on Friday voted to proceed with the project. The Bi-State-owned parking lot at the northwest corner of Forest Park Parkway and DeBaliviere Avenue along with the drop-off lot on the east side of DeBaliviere Avenue are targeted for new apartment and retail buildings.
The privately owned strip mall to the north of the Bi-State parking lot is also part of the project, slated for a four-story, 106-apartment building with 16,000 square feet of ground-floor retail.
 
The Bi-State parking lot will be turned into a six-story building with 108 apartments and almost 13,000 square feet of ground-floor retail. Metro's drop-off lot across the street would become a five-story, 51-apartment building with 5,000 square feet of street-level retail. Plans also call for public art and streetscape improvements. (Post-Dispatch)
Over the last quarter century other developers have also talked about developing around the station. Maybe it'll finally happen. Over the last few years we have seen high-end high-density housing filling in gaps along Pershing Ave, to the East of DeBaliviere. Yet, five houses West on De Giverville, facing the parking lot to be developed. are two houses in poor condition.
Across from a light rail transit station for 25 years. Part of the problem with this area is a lack of retail/services — namely a grocery store:
5727 De Giverville Avenue has a Walk Score of 64 out of 100. This location is Somewhat Walkable so some errands can be accomplished on foot.

5727 De Giverville Avenue is a three minute walk from the MLB MetroLink Blue Line and the MLR MetroLink Red Line at the FOREST PARK METROLINK STATION stop. (WalkScore)
Hopefully the new development will substantially increase the WalkScore for this area.  Certainly couldn't lower it!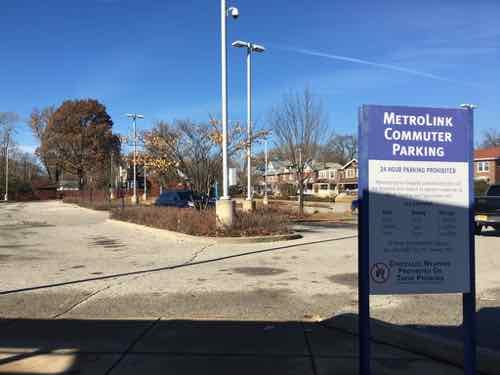 I've previously posted about how awful the strip retail building at DeGiverville & DeBaliviere is — especially need to a light rail station.
Can't wait to see that building demolished!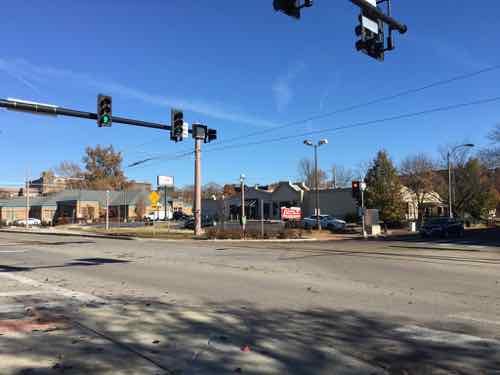 While I'm happy a new developer is interested in this area, I'm not thrilled Metro will still have 100 parking spaces (per Wikipedia).  This just increases the cost of housing & commercial rents in the new development — meaning those of us on the low end of the income scale who use transit won't be able to afford to live here.
— Steve Patterson