Many of us agree we should invest in better North-South transit, most likely rail-based. But details such as route, track type, speed, spacing of stops, etc is where there's disagreement. Today I want to review three track options for street-running rail transit:
Ballasted track
Embedded track, shared lane
Embedded track, protected lane
I'm going to use photos from Dallas to demonstrate these.
Ballasted track
This is the traditional type of railroad track.
Track ballast forms the trackbed upon which railway sleepers (UK) or railroad ties (US) are laid. It is packed between, below, and around the ties. It is used to bear the load from the railroad ties, to facilitate drainage of water, and also to keep down vegetation that might interfere with the track structure. This also serves to hold the track in place as the trains roll by. It is typically made of crushed stone, although ballast has sometimes consisted of other, less suitable materials. The term "ballast" comes from a nautical term for the stones used to stabilize a ship. (Wikipedia)
Our light rail uses this type of track in its exclusive right-of-way, with wood ties in the original 1993 line and concrete ties in later extensions. Obviously, this is not used in places where cars drive in the same space. With railroads they are completely separate but when used in the public right-of-way (streets) it requires physical barriers to keep cars off the track.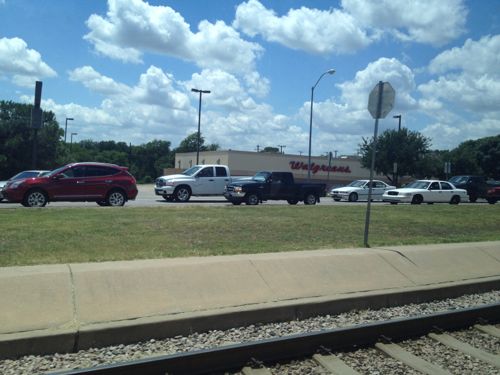 This is the least costly and fasted type of track. To achieve the highest speeds it's important to have few conflict points (crossings) and greater distances between stops.
Embedded track
Embedded track is more costly to install than ballasted track, and vehicles operate at slower speeds.
Where a rail is laid in a Road surface (pavement) or within grassed surfaces, there has to be accommodation for the flange. This is provided by a slot called the flangeway. The rail is then known as grooved rail, groove rail, or girder rail. The flangeway has the railhead on one side and the guard on the other. The guard carries no weight, but may act as a checkrail.

Grooved rail was invented in 1852 by Alphonse Loubat, a French inventor who developed improvements in tram and rail equipment, and helped develop tram lines in New York City and Paris. The invention of grooved rail enabled tramways to be laid without causing a nuisance to other road users, except unsuspecting cyclists, who could get their wheels caught in the groove. The grooves may become filled with gravel and dirt (particularly if infrequently used or after a period of idleness) and need clearing from time to time, this being done by a "scrubber" tram. Failure to clear the grooves can lead to a bumpy ride for the passengers, damage to either wheel or rail and possibly derailing. (Wikipedia)
This type of track is more common where vehicles & pedestrians are in the same space as the track.
Embedded track, shared lane
Dallas' light rail doesn't share lanes with vehicles, where it uses streets not in a median cars are banned.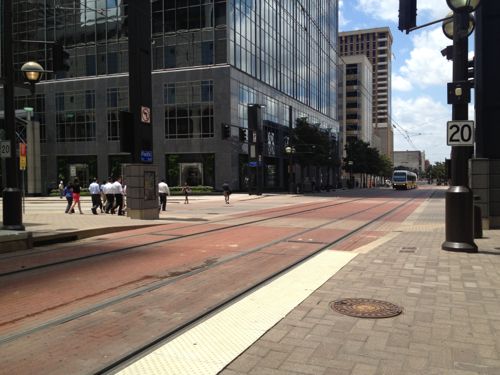 This is common for light rail. However, Dallas does have embedded track with shared lanes — their new tramway (aka streetcar).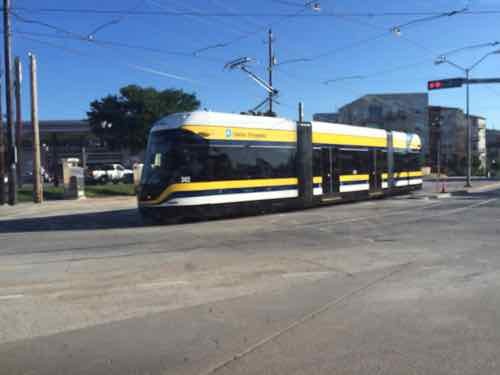 Embedded track, separate lane
With a separate lane the transit vehicle can move slightly faster than it can when sharing a lane.
Each of these has their place, depending upon the situation and desired speed. I can see using ballasted track in auto-centric suburban medians, but not within the City of St. Louis or even inner-ring suburbs. The more separate ballasted track you have, combined with fewer stops, the faster the transit vehicle will get from A to B.
Those advocating more rail transit in St. Louis need to think about these track types and the implications of each.
— Steve Patterson