My friend suggested we meet for lunch at Tower Tacos on Cherokee. I knew that meant I'd have to drive there and he could walk, but I rarely pass up lunch on Cherokee.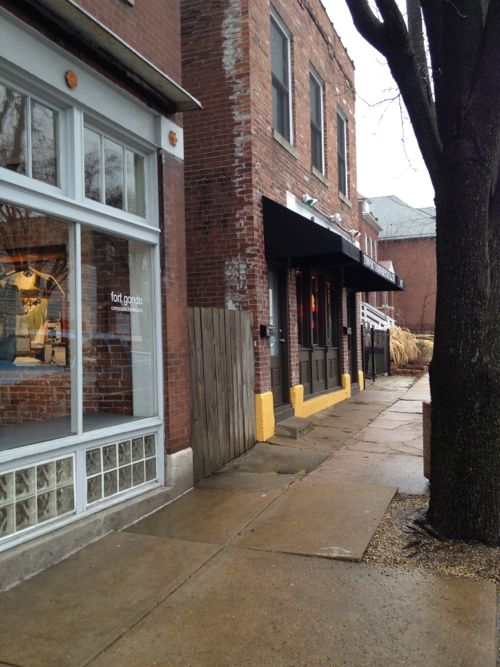 This side of Cherokee between Compton Ave on the west and Michigan Ave on the east contains seven buildings. At a casual glance I didn't give much thought to them, they all looked like they were from the same period. Out of curiosity I decided to find out using Geo St. Louis, "a guide to geospatial data about the City of St. Louis." What I found out was these seven buildings were built over a 17-year period (1896-1913):
The first, 3137 Cherokee, was built in 1896 , a two-flat originally. This was the second lot from the east, not the corner.
In 1905 a brick one story house was built to the lot to the west, at 3139 Cherokee. For nine years the other house stood alone, unless previous structures existed on this block.
In 1909 a corner storefront was built next door to the east at 3133 Cherokee. This is the corner at Michigan Ave. Now we've got three buildings in a row.
Also in 1909 a 2-story with first floor storefront space was built at 3147 Cherokee. This skipped a lot. This is now Tower Tacos
A year later, 1910,brick 4-family was built at 3143-45 Cherokee filling in the gap left the previous year. Five buildings now in a row.
In 1911 2-story with two storefronts and two flats was built on the next lot at 3151 Cherokee.
Finally in 1913 a large 2-story  building with storefronts & flats was built at 3155-59 Cherokee, finishing the block at Compton Ave.
It's possible earlier frame or soft brick buildings existed on this block but I have no knowledge of such. The point? Development, residential & commercial, used to be done a building at a time based on demand. The financing package was limited to buying the lot and building a single structure.
Today all 42 buildings on city block 1502 would have been built at once — or at least in the same development package. After the first developer goes under someone else would come in to finish building on the remaining vacant lots. All the buildings would have the same basic look, the exact same brick color and the same setback from the sidewalk. Boring.
The days of people buying lots and building their own home are long gone but in parts of the country it's not uncommon for a developer to create building lots and then have many builders buy those lots. Some would get built on a speculative basis and some would be custom for a specific buyer. For filling in vacant parts of the city I'd like to see us try the idea of separating the development of build-able lots and the construction of new buildings.
– Steve Patterson