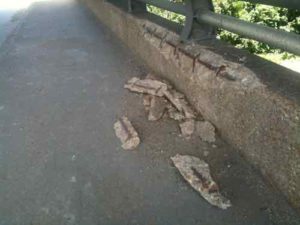 Last month the Trump administration unveiled its infrastructure proposal.   Trump's alma mater, the Wharton School of Business at the University of Pennsylvania, analyzed the plan:
Key Points

President Trump recently released his updated infrastructure plan along with the Fiscal Year 2019 Budget. The plan proposes to increase federal infrastructure investment by $200 billion to provide incentives for a total new investment of $1.5 trillion in infrastructure.
However, based on previous experience reviewed herein, most of the grant programs contained in the infrastructure plan fail to provide strong incentives for states to invest additional money in public infrastructure. Indeed, an additional dollar of federal aid could lead state and local governments to increase infrastructure total spending by less than that dollar since state and local governments can often qualify for the new grant money within their existing infrastructure programs. We estimate that infrastructure investment across all levels of government, including partnerships with the private sector, would increase between $20 billion to $230 billion, including the $200 billion federal investment.
We estimate that the plan will have little to no impact on GDP.
Here's their summary of findings:
The White House's newest infrastructure plan proposes to increase federal spending by $200 billion to stimulate a total of $1.5 trillion in new spending across all levels governments and the private sector. However, based on past evidence, much of the new federal aid would lead to state and local governments increasing total infrastructure investment by less than the value of the aid itself. We estimate that total new infrastructure investment would increase between $20 billion to $230 billion, including the $200 billion federal investment. There will be little to no impact on the economy.
And their conclusion:
President Trump has presented a broad outline for infrastructure policy with a federal commitment of $200 billion. We find that most of the $200 billion will not be spent on programs that encourage state and local governments to vastly expand spending on infrastructure. As a result, the plan has a very small impact on the size of the economy. The plan produces slightly better outcomes when funded by user fees than when deficit-financed.
From the right-leaning Brookings Institute:
Not only does the administration not specify where it will find the additional $200 billion of direct spending it calls for over the next decade, but also it makes what most experts regard as wildly unrealistic assumptions about the amount of state, local, and private funding this modest increment will spark. Although the word "leverage" is sprinkled liberally throughout the plan, hardly anyone believes that $200 billion federal dollars will produce an additional $1.3 trillion investment from non-federal sources, especially when state and local budgets are being squeezed by rising costs for education and health care.

In recent years, both Republicans and Democrats called for dedicating to infrastructure some of the proceeds from repatriating corporate profits held overseas—an idea that Republicans rejected in their recent tax bill.

There are other options. Rep. Bill Shuster (R-PA), the chair of the powerful House Committee on Transportation and Infrastructure, has floated the idea of raising the gas tax within the House Republican caucus. The U.S. Chamber of Commerce, a longtime advocate of increased infrastructure investment, has called for a 25-cent-per-gallon increase, which would raise $375 billion over the next decade. Some Republicans are calling for a carbon tax, which they regard as a better way of attacking climate change than detailed regulation with large compliance costs. Considering that a more efficient transportation system would also help reduce CO2 emissions, using some of the carbon tax proceeds for roads and highways would make sense.
If it passes the GOP-controllled congress it won't have an impact here in the St. Louis region. Illinois & Missouri and our regional counties & municipalities are all strapped for cash. Missouri is unwilling to raise the fuel tax. Like the neoliberal Democratic plan to privatize the St. Louis airport. our public infrastructure could become private in an effort to fix it.
The view of one senator:
In California, Texas and South Carolina, privately owned toll roads went bankrupt or were foreclosed because of exaggerated projections from investors. Time and again, these private companies who take over public infrastructure showed they do not represent the public's best interests.

In addition to the obvious siphoning of public resources that Trump's tax breaks and private equity financing entail, his administration has been pushing "asset recycling," i.e. selling off existing assets – like airports, bridges and highway rest stops – to private investors and using the revenue ("recycling" it) to fund new facilities.

It is important to note, moreover, that weak investment in America's infrastructure is not due to lack of access to financing, but because of constraints associated with insufficient state and local government revenue. Trump's public-private partnership model does not address this problem and, in fact, exacerbates it by increasing overall costs to taxpayers. And because smaller-scale projects, like those in rural areas, may not be profitable enough to attract private equity investors, his model risks leaving many parts of the country behind.

But Donald Trump wants to hand over more critical public infrastructure to private investors who will squeeze profits from the American people by putting up new tolls and exorbitant users' fees. That would be unacceptable. We shouldn't be selling off public assets to billionaires to make huge profits on the backs of working people.

Trump's plan is the exact opposite of what we should be doing as a nation. Instead of creating more tax giveaways to corporate America and Wall Street, we should be eliminating tax loopholes that allow profitable corporations to stash their cash in offshore tax havens around the world. And we should be using this revenue to directly invest $1 trillion to modernize our nation's infrastructure – a plan that would put 15 million Americans back to work in good-paying jobs.
The above is from SEn. Bernie Sanders.
This is where I'd normally include the results of the recent non-scientific Sunday Poll. However, shortly after the poll began I inadvertently tossed the post in the trash. I got busy during the day and didn't recover the post until after the poll closed at 8pm.
— Steve Patterson