As work continues on the "lid" over the highway, now called I-44,  that divides downtown St. Louis from the Arch grounds I thought we should take a look at another recent park-over-highway project — Dallas' Klyde Warren Park:
Klyde Warren Park creates an urban green space constructed over a section of the below-grade Woodall Rodgers Freeway, for 3 blocks between Pearl Street and St. Paul Street. It provides connectivity to the city's flourishing Arts District from other neighborhoods, brings together cultural events and experiences, and serves as a central public gathering space for Dallas residents and visitors to enjoy.

Designed by landscape architecture firm, The Office of James Burnett, the park features flexible, pedestrian-oriented design, offering a mix of active and passive spaces, which include a children's park, reading room, great lawn, restaurant, performance pavilion, fountain plaza, games area, urban dog park, and botanical garden around a sweeping pedestrian promenade.. A 6,000-square-foot (560 m2) restaurant and performance stage, designed by Thomas Phifer and Partners, is in the center of the park. In addition it provides jogging trails, a dog park, a children's playground, and an area for games. (Wikipedia)
The idea of building a park over the recessed highway had been discussed since the highway was built in the 1960s. As an architecture student in the late 80s I visited I.M. Pei's then-new Morton H. Meyerson Symphony Center in 1989, thinking the location, next to this wide ditch, was awful. Though I'd been to Dallas since then, I hadn't seen the Meyerson again until last month.
The new trees are now mature, but unfortunately I didn't have enough juice in my wheelchair to get closer. Besides, I was about to cross over the highway and in a block be at my destination.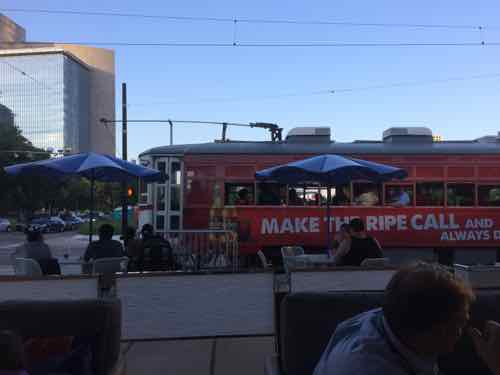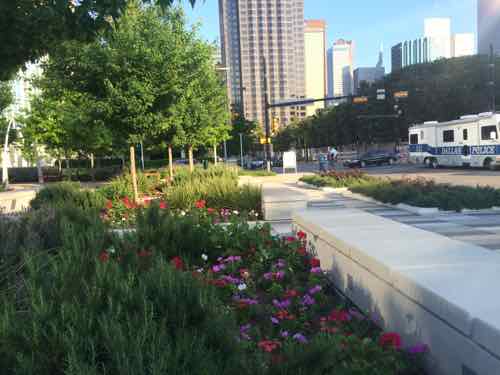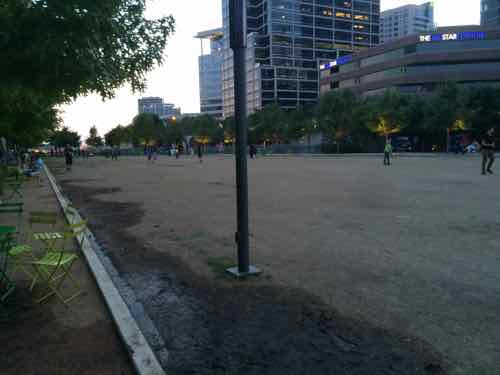 Of course, a 5.2 acre park built over a highway didn't come cheap:
The $110 million project was funded through a public-private partnership. Public support included $20 million in bond funds from the City of Dallas, $20 million in highway funds from the state and $16.7 million in stimulus funds. The balance of funding is through individual donors directly to the Woodall Rodgers Park Foundation.

Klyde Warren Park is owned by the City of Dallas and privately operated and managed by the private Woodall Rodgers Park Foundation. The Foundation studied great public parks across the country and plans to bring best practices to the park's operations, programming and maintenance.
I'd say it's worth every penny! Over the coming 25 years it'll help mend areas long-separated because of the highway. I love that the foundation must also program the space, wish the Gateway Foundation had to do the same at Citygarden, and that 9th Street would remain open except for during events/weekends.
— Steve Patterson