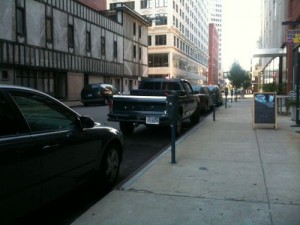 In the poll last week more than two-thirds of readers the voted clearly support Tishaura Jones' decision to continue enforcement of parking meters.
Q: Should the St. Louis Treasurer suspend parking meter enforcement during downtown events?
No 99 [67.81%]
Yes 41 [28.08%]
Maybe 5 [3.42%]
Unsure/No Opinion 1 [0.68%]
Yes, but only for the Komen Race 0 [0%]
I agree with Jones and those who voted no, too many events to say parking is free. How far away from the event would be free? What about events held elsewhere, would those events also have free parking too? Look, I'm sorry the Komen Race organizers failed to make it clear to participants that on-street parking hasn't been free since July 2013. The ticket is only $10, take transit or carpool next year.
— Steve Patterson