I've lived in St. Louis for more than 25 years now, the last 8+ downtown (Downtown West). In this time, many restaurants have come and gone all over the region.  Anniually publications highlight closings & openings — RFT's 2013 Openings & Closings, for example.
Restaurants close for a variety of reasons.
According to a frequently cited study by Ohio State University on failed restaurants, 60% do not make it past the first year, and 80% go under in five years. (Food Network Chef Robert Irvine Shares The Top 5 Reasons Restaurants Fail)
At the end of this month two longtime downtown restaurants will close: Mike Shannon's Steaks & Seafood and Harry's Restaurant & Bar.
On the heels of Mike Shannon's Steaks and Seafood (closing Jan. 30), Prime 1000, the Dubliner and Joe Buck's shuttering, comes word that Harry's Restaurant & Bar will close after a celebration Jan. 29-30.

Harry's co-owner Tim Pieri confirmed to the Post-Dispatch that the sprawling complex at 2144 Market Street will close after nearly two decades. Harry's includes a dining area along with a patio and the Horizon at Harry's nightclub. (Post-Dispatch)
Shannon's will focus on their two other locations — Edwardsville & the airport. Harry's only has the one location.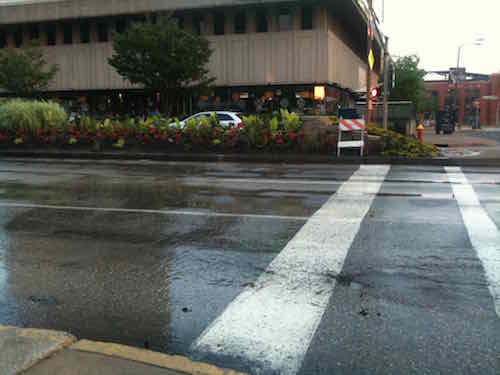 City records online don't list the date the building was constructed. In 1969 the Spanish Pavilion (briefly) opened on the block, this building appears on a 1971 aerial.  In the early 1990s the East-West Gateway Council of Governments, our Metropolitan Planning Organization (MPO), was located on the 2nd floor.  I have no recollection what was on the 1st floor prior to Shannon's relocating here 10-15 years ago. They installed new windows along Market — making a strong connection to the public realm. Pedestrians could see the beautiful dining room & bar — though both were slightly higher. I ate there once 5-8 years, a friend was treating. Great food & service. Convenient location, we arrived as pedestrians.
The location is excellent, very close to Busch Stadium. Unfortunately, the city allowed the Cardinals/Cordish to build Ballpark Village without pedestrian access from 7th Street. So anyway wanting to eat here before or after a baseball game were forced to walk in auto driveways or a circuitous route to stay on marginal sidewalks.  This didn't cause them to close, but it didn't help. It also presents physical challenges for the next tenant of the space.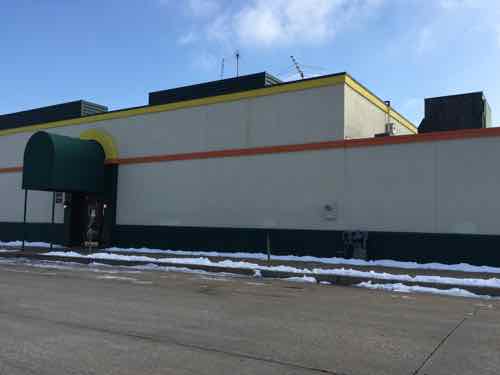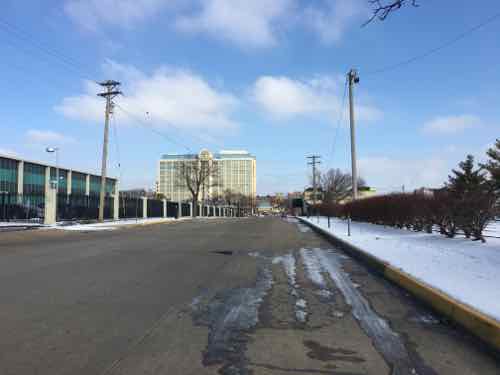 On paper Harry's location is also good: surrounded by hotels and at a highway on/off ramp. The building was built in 1964, for years a Mercedes-Benz dealership was across 22d  Street — now the FBI.  I remember the auto dealership, but I don't recall what was in the Harry's building. The dealership closed in 1995 — about the same time Harry's opened.
I've never eaten at Harry's — never had any desire. The building isn't inviting. They took the on-street parking for valet use. Though I live closer to Harry's than to Shannon's, pedestrian access is basically impossible. Not the building — getting there. I was able to photograph the conditions in June 2010: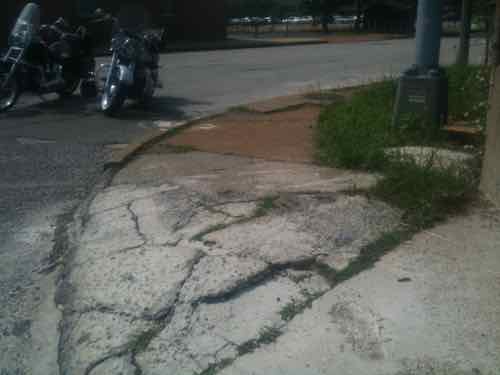 Even a guest at the hotel across Market St from Harry's would have a challenge walking to dinner. But again, even if it was a walker's paradise the building isn't inviting.
I looked at their menus and photos — how did they stay open this long?
[Harry's owner] Pieri cited a familiar scenario: "It's the economy, the highway closing, Ballpark Village. Downtown is just a dead area right now, unfortunately. Obviously, the sad part is nobody is talking about it. Iconic places are going out of business, and nobody cares.

"Ballpark Village was the nail in the coffin. It shut down Washington Avenue and took 70 percent of our business. We thought it would be more like 10 or 20 percent. It took the people left who were coming to downtown."

He said the closing of Highway 40 (Interstate 64) for construction in various stages between 2007 and 2009affected Harry's because "St. Louisans are creatures of habit. When it was closed for 2½ years, they went elsewhere."

Pieri thinks there's a downward swing that will continue until downtown books more conventions and brings crime under control. "People are afraid to come downtown," he said. (Post-Dispatch)
The closing of Harry's isn't a shock to me.
— Steve Patterson