Ninth Street through Citygarden was, to my knowledge, never officially vacated by the city.   The late Peter Fischer of the Gateway Foundation just decided it would be closed. He
St. Louis loves closing streets. A block here, a block there. The cumulative effect has been disastrous for the city, especially downtown. We have one-way streets but with blocks either closed or some two-way. It's confusing to residents and visitors.  Everyday at the Downtown YMCA I see cars going to wrong direction on Locust St.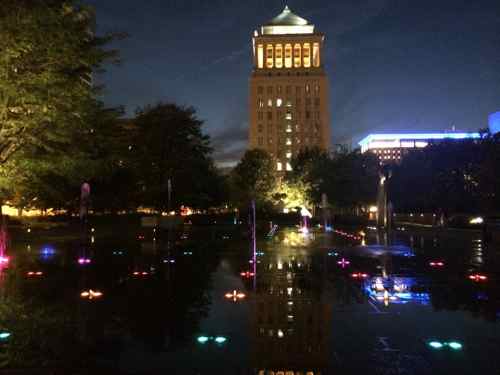 Thankfully Citygarden was designed to have 9th Street open to vehicles.
At each end rain garden curb bulbs narrow the street to just two lanes — this is a natural message to drivers to slow down. In the center is a crosswalk. On each side is a passenger drop-off point. This is helpful for the elderly and disabled.
One thing everyone involved failed to do is provide a pedestrian signal for those crossing 9th on the wide "Hallway" that's supposed to eventually extend the length of the Gateway Mall.
Spend tens of millions but not even consider the basics of pedestrian safety.
Most who took the recent non-scientific Sunday Poll thought 9th Street should remain closed.
Q: Agree or disagree: 9th Street through Citygarden should remain closed to vehicle traffic
Strongly agree: 16 [41.03%]
Agree: 6 [15.38%]
Somewhat agree: 2 [5.13%]
Neither agree or disagree: 1 [2.56%]
Somewhat disagree: 2 [5.13%]
Disagree: 7 [17.95%]
Strongly disagree: 5 [12.82%]
Unsure/No Answer: 0 [0%]
It could still be closed on nice weekends when it's busy and during special events. It would be nice to be able to exit I-64 at 9th and be able to take it all the way into Columbus Square neighborhood to go home.
Still need to figure out how to fix the lack of pedestrian signal though…
— Steve Patterson