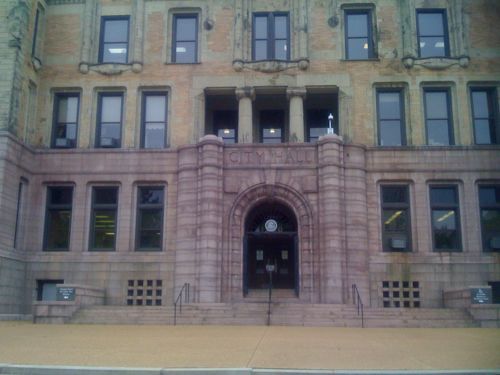 The St. Louis Board of Aldermen will meet at 10am today, their  12th meeting of the 2019-2020 session. While they usually meet on Friday, they're meeting today because of the Fourth of July holiday weekend.
As previously noted, they have the first two meetings labeled as Week #1, so they list this as week/meeting 11.
Today's agenda includes four (4) new bills:
B.B.#85 – Dan Guenther – An ordinance approving the dissolution of the Cherokee Station Special Business District and the discharge of the members of its board of commissioners, by repealing Ordinance No. 58600, approved May 6, 1982.
B.B.#86 – Roddy – An ordinance pertaining to parking within the "4400 Gibson Avenue Residential Parking District;" establishing the location and restrictions for curb parking in the restricted parking zone within the 4400 Gibson Avenue Residential Parking District (the "District"); authorizing the placement of Permit Parking Only signs within the District; and prohibiting the parking, within the District, of any vehicle which does not display the authorized permit; containing definitions, a penalty clause and an emergency clause.
B.B.#87 – Narayan – An ordinance approving a blighting study and Redevelopment Plan for the 7202-7220 Arsenal St. Redevelopment Area
B.B.#88 – Martin – An ordinance repealing Ordinance 69427 approved February 21, 2013, and pertaining to City public works contracts, Tax Increment Finance projects and St. Louis Bonded Projects, and workforce diversity, and establishing apprenticeship training, construction workforce development, and a Community Jobs Board, and in lieu thereof establishing a new ordinance pertaining to the same; and containing a severability clause and effective date.
The meeting begins at 10am, past meetings and a live broadcast can be watched online here. See list of all board bills for the 2019-2020 session — the new bills listed above may not be online right away.
Next week they'll meet on Friday July 12th — their last meeting before Summer break.
— Steve Patterson