Here is an addition to downtown you may have missed, here was the press release:
ST. LOUIS, November 10, 2010 – The Downtown Community Improvement District (CID) has installed its first demonstration Rain Garden at the corner of 11th and Pines Streets. One of the CID's goals for this project was to catalyze a trend toward more sustainable streetscapes in the city. The 11th Street pilot project employs a new segmental wall and curb system, called Freno, that offers a cost-effective, modular method of building an urban rain garden.

This rain garden was designed to capture rain water from the gutter and adjacent parking lot, prior to reaching the sewer system. This sustainable landscape does not require watering and gives back to the environment by specifically designated plants and soil mix that filter out 80-90% of the pollutants from car fluid and road treatment chemicals.

Rain gardens have been designated in the downtown St. Louis streetscape plan and they are gaining popularity in downtowns across the nation and abroad. With this in mind, the need for sustainable landscapes in downtown is becoming more and more important.

The materials and labor that went into the construction of this rain garden has been 100% donated by the City of St. Louis Department of Streets, HOK, Midwest Products, St. Louis Composting, Forrest Keeling Nursery, and the Downtown CID.

This Downtown Next priority is brought to you by the Downtown CID – dedicated to a cleaner, safer, more vibrant and greener Downtown. Downtown St. Louis is a regional leader in sustainable practices.
I like rain gardens, they do a great job of reducing water runoff.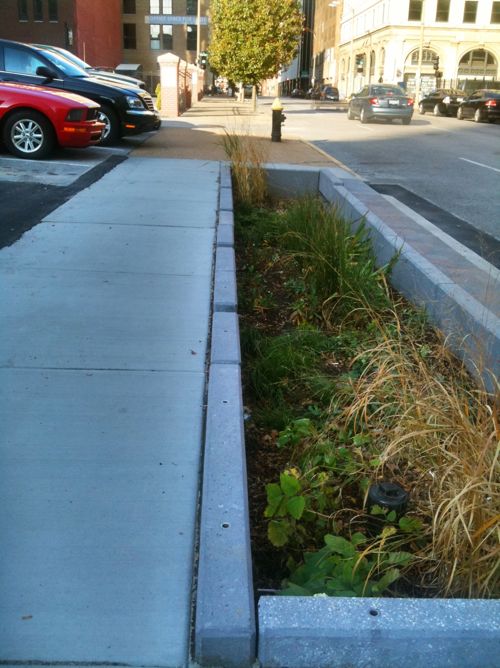 But I also like sidewalk space and this new rain garden consumes way too much of the width of the sidewalk. Â Eliminating a driveway into the adjacent parking lot is a very good thing but with the reduced width of the sidewalk I'm concerned about cars parking too far forward.
Ideally there would be fencing to prevent cars from parking so their front ends don't further squeeze the sidewalk space. Â Simple wheel stops in the parking lot would solve the problem on the cheap. Â The rain gardens on 9th & Market (Citygarden) extend out from the curb line into what is normally the parking lane. Â Here, on 11th, parking is not permitted next to the rain garden so the street width is excessive for the two travel lanes. Â The curb to curb for the roadway is too wide but the sidewalk width was cut in half. Typical.
The problem of trash will be ongoing. Â Good intentions, poor execution.
– Steve Patterson