As many of you know, Metro, formerly know as the Bi-State Development Agency, operates our MetroBus and MetroLink light rail service. Metro also runs the trams inside the Arch and operates the Saint Louis Downtown Airport (map). Although MetroBus service does reach the airport, my boyfriend drove me on April 19th to view Metro accepting a Boeing 727 from FedEx Express.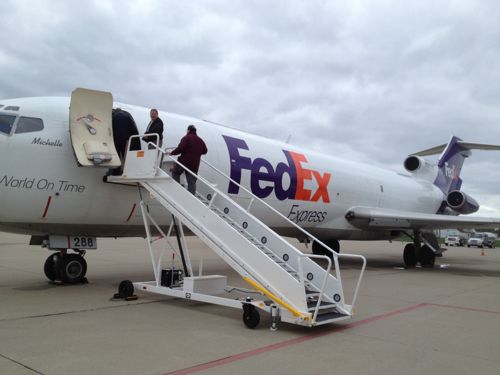 Here is the donated plane will be used:
Although the aircraft's primary purpose will be to train firefighters and other emergency response force personnel, it will also serve as a classroom and a ground trainer for future pilots and aircraft maintenance technicians, and be made available to researchers and educators for use in their air safety and educational programs.

The pilots' cockpit will remain intact, just as it is when the pilots stepped out of it, however, changes will be made throughout the rest of the aircraft. The front half of the fuselage will be configured as a standard passenger airliner, complete with a pull-down screen and overhead projector for use in classroom-style presentations to tour groups visiting the airport and the Greater St. Louis Air and Space Museum, and to youth flying with Experimental Aircraft Association (EAA) Chapter 64 in their Young Eagles program. Jet Aviation, which has a history of doing maintenance and repair work for the FedEx corporate fleet at its facilities at St. Louis Downtown Airport, will assist in preparing the aircraft for its new mission.

The rear half of the fuselage will be outfitted to contain a maze of hanging hoses, wires, and other obstructions with cargo containers, boxes, and jumbled seats. During training sessions, non-toxic smoke generators will fill the aircraft with smoke as if the aircraft had made a crash landing. Area firefighters will be able to don their gear and enter the aircraft to search for survivors and complete a myriad of real-world training scenarios. (source)
Firefighters in the region currently get trained in simulated spaces, not with actual aircraft.  Once ready for training, firefighters from the region will be able to come practice maneuvers in a more realistic setting.
This plane has a brief St. Louis history:
The aircraft was delivered on October 25, 1979, in full Ozark Airlines' colors, however, it was transferred to Pan American World Airways that same day. Pan Am operated it as "Clipper Frankfurt" from Oct. 25, 1979, until they ceased operations on Dec. 4, 1991. The aircraft was placed in storage from Dec. 5, 1991, until it was acquired by FedEx Express on April 22, 1993. 
Ozark Airlines operated from Lambert until merging with TWA.
— Steve Patterson