Lately I've been focusing on my pedestrian experience in the city, some recent posts include:
Today post is another example of poor quality work.  This isn't about being a cash-strapped city — this is incompetence at all levels.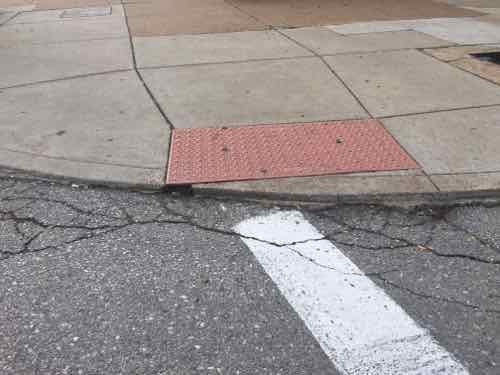 Looking at Google Street View I know this was done by the city sometime between September 2009 and August 2015.  It was during this time the city took possession of the building from the federal government. I remember the old ramp, there are still some like it. It was done during a period when detectable warnings weren't required, plus the location had no relationship with their crosswalk. But it was flush with the street.
The maximum vertical hight change allowable per ADA guidelines is 1/4″  — but this curb ramp is substantially higher than that. Sadly, it is very common to have greater than 1/4″ at ramps. Many are so bad I email the Streets Dept's asphalt guy directly so they can do a non-compliant patch. Many things can be non-compliant, but still useful. This, and others, are hard to use and they damage the drive wheel on my chair. This would be very challenging for someone using a manual chair, and a trip hazard for a person walking with a cane or walker. In fact — this is a trip hazard for anyone walking here.
I have no idea if this was built by city employees or by a hired contractor. Either way, we's never tolerate such shoddy work on our homes or cars — it shouldn't be allowed in the public right-of-way.
— Steve Patterson