Yesterday, in Part 1, I talked about the two different transit I'd taken (MetroLink, #90 & #32 MetroBus) and issues faced as a pedestrian trying to navigate in between.  I'd made it to IKEA for shopping, followed by lunch.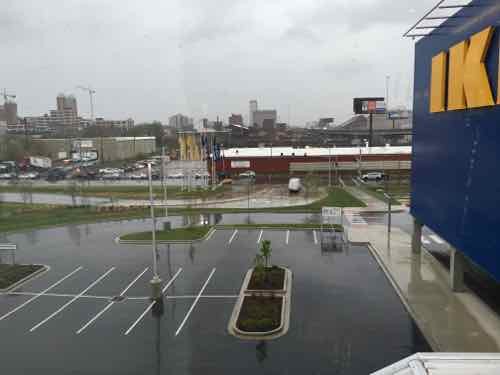 I checked the transit options, it would be a while before a MetroBus stopped out front. Plus, that would only get me to Lindell where I'd have to wait in the rain for the #10. The Grand MetroLink is closer than the CWE MetroLink, but Forest Park is the most direct route and I recall some access issues the last time. Plus, my transfer from earlier was now long expired.
No matter what I'd be in the rain, so I decided to just roll home — 2.9 miles. I've done it a few times before, though not in the rain. I'm still wearing a poncho to keep me and the controller on my chair dry. My shoes, however, get soaked.  North on Vandeventer to Lindell. I stayed on the West side of Vandeventer because I'm bot sure if the city ever got around to the huge gaps in front of the curb ramps on the NE corner of Vandeventer & Forest Park. At Lindell, I checked the schedule again — I can get home before the next bus would arrive.
Because of the rain I only took a few pictures. The following week I took the bus to Lindell & Spring to backtrack and take pictures of things I saw in the rain.
Used to be — but no curb ramp is missing for the nearly 3 mile trip. If I tried to use Locust there are many missing curb ramps.
I still fail to understand why all the cost of the buttons when they don't need to be pushed in the East-West direction. And why have to press a button to get a walk signal when vehicles from side streets get a green light?  This is how we've spent money — building infrastructure that frustrates this pedestrian!
— Steve Patterson