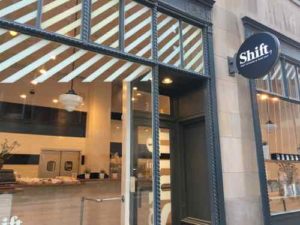 Change naturally comes with new generations. Currently restaurants are experiencing big shifts based on demographic changes.
No, I'm not talking about Millennials, but Get-Z.
Generation Z, as they have been coined, consist of those born in 1995 or later. This generation makes up 25.9% of the United States population, the largest percentage, and contribute $44 billion to the American economy. By 2020, they will account for one-third of the U.S. population, certainly worth paying attention to.

Just so we're clear:
A "Millennial" is a person reaching young adulthood around the year 2000.
Generation Z (also known as Post-Millennials, the iGeneration, Founders, Plurals, or the Homeland Generation) is the demographic cohort following the Millennials. (Huffington Post)
This young generation is having a big impact on the restaurant industry.
Twenty-four percent of Gen Zers order takeout three or four times in a typical week, which is more than any other generation, according to a study released last fall by the International Foodservice Manufacturers Association (IFMA) and the Center for Generational Kinetics. Comparatively, 21 percent of millennials, 17 percent of Gen Xers and 6 percent of baby boomers order takeout at the same rate. (Huffington Post)
Restaurants are responding to attract delivery & take out customers.
Delivery made up just 3 percent of total restaurant transactions in the year that ended in June, according to research firm The NPD Group. But interest in eating outside the confines of a traditional restaurant is clear. Customers only sat down to eat at restaurants 37 percent of time during the year that ended in June — with carryout representing a slightly larger piece of the pie (39 percent) and drive-thru visits accounting for 21 percent of restaurant transactions. And delivery growth also is in contrast to a slowdown in restaurant traffic overall, according to NPD. ?

Still, redesigning a restaurant to accommodate the burgeoning trend toward mobile ordering and meal delivery can be a risky move for restaurants, Roth said. For example, creating two lines for customers — one to wait for food ordered on the premises and the other to pick up mobile orders — makes sense, but it also could raise labor costs because more employees may be needed to staff both lines.

Those added costs can make a difference, especially in times of slower business. (Chicago Tribune)
For cities this might mean different needs for storefront restaurants — smaller dining rooms but more kitchen space if the 2 kitchen model is used. Remember when lines were to get a table? Now they're to pick up orders.
All this take out & delivery means more single use packaging. I do like when restaurants have reusable;e to go containers, I have several I've been reusing for years.  The Green Dining Alliance looks at packaging and other aspects of restaurants:
While we see many different ways that St. Louis' restaurants may work toward sustainability, all GDA restaurants must commit to our Core Concepts:

Ban use of Styrofoam
Utilize single-stream recycling 
Phase in efficient lighting. 
Set waste reduction and diversion goals, and share waste data with the GDA so that we can assess member restaurants' environmental impact. (information kept private)
Share baseline utility data so that the GDA can aggregate data for the region's environmental impact (information kept private) (GDA Core Concepts)
See certified restaurants here.
Responses on the recent non-scientintific Sunday Poll were less than usual, but here are the results:
Q: When buying a dinner (vs cooking at home) what's your preferred method?
Dine in at restaurant 16 [76.19%]
TIE 2 [9.52%]

Take out/grab & go/to go
Delivery

Unsure/no answer 1 [4.76%]
I prepare most of our meals so when we pay for food I want to get away from home and have a server bring me food & beverage, but I'm not young,
— Steve Patterson