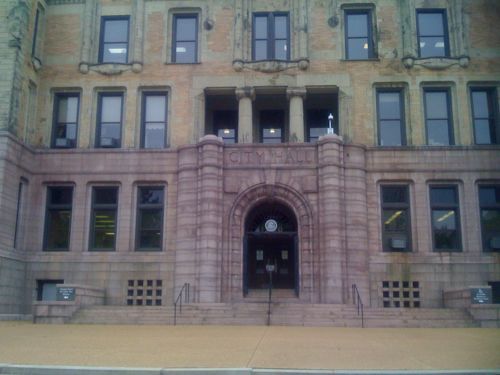 At the St. Louis Board of Aldermen meeting last week all 28 seats were occupied.
Not today.
Alderman Larry Arnowitz, who abruptly resigned Tuesday afternoon, has turned himself in to federal authorities Wednesday, officials said.
Arnowitz's brief letter of resignation cited "personal reasons."


On Tuesday, defense lawyer Patrick Conroy said Arnowitz, 66, would turn himself in to federal authorities Wednesday morning to face a federal fraud charge.
"He made a mistake," Conroy said. "We anticipate that the government's going to allege that the alderman converted some monies from his campaign fund for personal use," he said. (Post-Dispatch)
Arnowitz was first elected in 2011, narrowly defeating incumbent 12th ward alderman Fred Heitert, a Republican, in March 2011. He was challenged in the 2015 primary, but easily won. Last year he had two primary challengers, both easily defeated.
I immediately thought of former 6th ward alderman Kacie Starr Triplett.
She was one of the city's youngest politicians when she was first elected in 2007 — just 26 years old, poised and energetic about serving the city. Then she abruptly left office, announcing that she'd taken another job. Months later, it finally came out that Triplett was also pretty energetic about looting her campaign coffers and using the cash for personal expenses. The money went to pay her mortgage, for her credit-card bills, her salon and spa visits, and for her clothes, shoes and jewelry. The amount was somewhere between $8,000 and $18,900. (Riverfront Times)
Arnowitz was on the board when Triplett resigned, but he didn't learn from her mistakes.
The Board of Aldermen meet at 10am today, their 35th meeting of the 2019-2020 session. As previously noted, they have the first two meetings labeled as Week #1, so they list this as week/meeting 34.
Since the current session is almost over, today's agenda has no new bills. The Board of Aldermen meeting begins at 10am, past meetings and a live broadcast can be watched online here. See list of all board bills for the 2019-2020 session — the new bills listed above may not be online right away.
— Steve Patterson