I first disclosed my cancer diagnosis last Halloween, on this blog's 15th anniversary. Updates followed at the end of November and December.
To catch you up, I have stage 4 kidney cancer — which means it originated in a kidney but has spread elsewhere. I will never be cancer-free, treatments are about preventing the growth of tumors and further spreading.
My treatment isn't chemotherapy or radiation, it's immunotherapy.
Immunotherapy, also called biologic therapy, is a type of cancer treatment that boosts the body's natural defenses to fight cancer. It uses substances made by the body or in a laboratory to improve or restore immune system function. Immunotherapy may work by:

Stopping or slowing the growth of cancer cells
Stopping cancer from spreading to other parts of the body
Helping the immune system work better at destroying cancer cells (cancer.net)
My treatments are two different drugs administered intravenously, one after another, now every four weeks. As part of a clinical trial I also take a 3rd drug orally every day — though it might be a placebo.
In early February tests revealed my first three treatments managed to stop the growth of my tumors. Today I'll be back at Siteman Cancer Center, receiving my 5th treatment.
Side effects have varied, but minimally invasive. The worst has been increased fatigue. I'm fortunate to be on disability, not have to work. Initially I was too cautious, thinking I couldn't do what I'd been doing. I've realized now that other than needing an extra nap, my life continues as before. My life just now includes one day with IV treatments every 4 weeks.
Reduced appetite is another, losing weight which is not something my doctor wants. I now eat throughout the day, every day. The dietician encourages me to consume as many calories as I can. This is the opposite of how I've been living in the 12+ years since my stroke. Last July, after a year of going to the gym, I managed to get below 200lbs. I went from being obese to overweight. Now I'm on the verge of going from overweight to normal weight.
I'm grateful for Food Outreach, where we get prepared food every two weeks. I still grocery shop and cook, but having frozen foods in small portions enables me to eat 5-6 times per day. I have salmon nearly every day now, a little too often.
When I'm at Siteman Cancer Center I've noticed just how busy it is. It's clear that cancer impacts every part of society. Fellow patients represent all races, ages, economic classes, and geography — some drive many miles to be there, I take transit. We're all treated equally, those with lots of money wait with a buzzer like the rest of us to be called back to a treatment pod.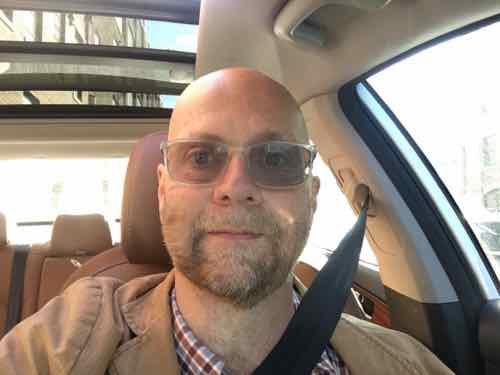 Last month we did our annual trip to Chicago for the Chicago Auto Show, my first overnight travel since diagnosis & treatment. It went well enough I'm planning my first bucket list trip next month. In April I'm going to do a two week solo trip to Chicago with a side trip to Milwaukee, WI. This extended time will allow me immerse myself in Chicago and visit the state of Wisconsin for the very first time.
In Milwaukee I plan to see where a freeway was replaced by a boulevard, the Bronze Fonz, try their frozen custard, and ride their modern streetcar & a couple of bus routes. A future bucket list trip will include returning to Wisconsin to tour Frank Lloyd Wright architecture throughout the state.
My current treatment plan will continue as long as it is working. Once it stops, my oncologist will try another. In the meantime, I'm trying to enjoy the passage of time.
— Steve Patterson