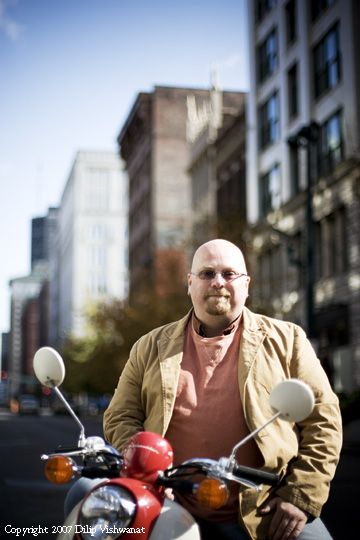 I don't normally post on a Thursday, but today is not just any Thursday.
It was 15 years ago today, Halloween 2004, when I registered the domain UrbanReviewSTL.com and began posting my thoughts on urban planning and architecture in the St. Louis region.
I initially began this blog to distract myself from my father's recovery from a heart attack on the first of October '04. I had no plan for longevity, I just needed something else to focus my attention on at the moment.
Within a few months I was the first openly-LGBT candidate for the St. Louis Board of Aldermen. I lost, but the experience was great and it increased attention to this blog. I was motivated to make a difference.
In 2006 my mom passed away, later that year St. Louis Magazine named me the 50th most powerful person in St. Louis. In these early years I posted about a variety of topics including buying/riding/parking a 50cc Hondas Metropolitan Scooter, valet parking, Loughborough Commons, etc.
In late November 2007 I moved into a loft in Downtown West, just as my father went into the hospital in Oklahoma City. On January 1, 2008 my father died. Within a couple of weeks I was driving a friend of a friend, and her two cats, to Providence Rhode Island. After a night there I spent a day & night in Boston, flying back to St. Louis from there. I didn't know it at the time, but it would be my last walking/exploring trip.
On a cold & snowy Friday, February 1, 2008, I had a hemorrhagic stroke at home alone. It was 15-16 hours before a worried friend found me the next morning. After 3 months in 3 hospitals I retuned home on April 30, 2008. Read more on my post about the 10th anniversary of my stroke.
In the nearly 12 years since my stroke I've posted a lot about obstacles encountered while using my power wheelchair, my increased use of public transit, meeting & marrying my husband, etc.  I've been working out at the downtown Y (YMCA) and, between July 2018 and July 2019, managed to get below 200 pounds for the first time in decades — lost nearly 40 pounds in a year of working out. Felt so great to achieve that goal.
And now, the reason why the future of this blog is uncertain.
For a few years I've had an enlarged thyroid. Each year I'd go to the Center for Advanced Medicine (CAM) for a CT scan, once also getting a biopsy to test the tissue. Nothing.
The chest x-ray at my annual physical this year spots were seen that weren't there last year.  My doctor thought it was cancer, so back to CAM for a CT. Yep, spots that weren't there before. Next up was Barnes Hospital for a CT biopsy of my right lung. The results showed metastatic renal cell carcinoma (RCC) — kidney cancer that has spread to my lungs.  It might be another type of kidney cancer, but RCC is most common. Interestingly it's unrelated to my enlarged thyroid.
I meet with an oncologist next week at Siteman Cancer Center to discuss diagnosis and her proposed treatment plan. My plan is to continue posting four days per week (Sunday, Monday, Wednesday, and Friday), but I can't predict how the cancer treatment will affect me. My research has shown a lot of drugs, combined with chemotherapy, have good success with advanced kidney cancer. I'm optimistic about my odds.
I'm still working out at The Y, still going about my life as usual. You'll still see me out and about, but don't be surprised if I begin crying — I have pseudobulbar affect as a result of my stroke. I greatly appreciate positive thoughts, well wishes, and such. However, please don't tell me you're praying to your deity on my behalf — that's about you not me! When I was certain I was going to die while experiencing a stroke I didn't suddenly cease being an atheist/humanist.
"Humanism rejects dependence on faith, the supernatural, divine texts, resurrection, reincarnation, or anything else for which we have no evidence. To put it another way, Humanists believe in life before death."  ? Greg M. Epstein, Good Without God: What a Billion Nonreligious People Do Believe
Pray if you like, just please don't think sharing that information with me will bring me comfort — it won't.
So many blogs have come and gone over the last 15 years — it's a lot of work so I understand why many ceased being published. I'll post updates on my health on social media, and a post likely on Friday after Thanksgiving (11/29).
— Steve