First off let me quote NASA to explain some terms:
Weather vs. climate

Weather refers to atmospheric conditions that occur locally over short periods of time—from minutes to hours or days. Familiar examples include rain, snow, clouds, winds, floods or thunderstorms. Remember, weather is local and short-term. 

Climate, on the other hand, refers to the long-term regional or even global average of temperature, humidity and rainfall patterns over seasons, years or decades. Remember, climate is global and long-term.

Global warming

Global warming refers to the upward temperature trend across the entire Earth since the early 20th century, and most notably since the late 1970s, due to the increase in fossil fuel emissions since the industrial revolution. Worldwide since 1880, the average surface temperature has gone up by about 0.8 °C (1.4 °F), relative to the mid-20th-century baseline (of 1951-1980).

Climate change

Climate change refers to a broad range of global phenomena created predominantly by burning fossil fuels, which add heat-trapping gases to Earth's atmosphere. These phenomena include the increased temperature trends described by global warming, but also encompass changes such as sea level rise; ice mass loss in Greenland, Antarctica, the Arctic and mountain glaciers worldwide; shifts in flower/plant blooming; and extreme weather events.
The science behind climate change is clear, the facts are overwhelming…there is no such thing as alternate facts.
Last year, global warming reached record high temperatures — and if that news feels like déjà vu, you're not going crazy.

The planet has now had three consecutive years of record-breaking heat.

The National Oceanic and Atmospheric Administration has just released its annual State of the Climate report, which says it's the hottest it has been since scientists started tracking global temperatures in 1880.

A separate analysis, by NASA scientists, came to the same conclusion. (NPR)
Human activity is causing the planet to heat up, melting ice, raising ocean levels. Thankfully, most of you realize the situation the world is in isn't a hoax.
Q: Agree or disagree: 'Climate Change' is a hoax.
Strongly agree 5 [3.38%]
Agree 5 [3.38%]
Somewhat agree 1 [0.68%]
Neither agree or disagree 3 [2.03%]
Somewhat disagree 0 [0%]
Disagree 6 [4.05%]
Strongly disagree 127 [85.81%]
Unsure/No Answer 1 [0.68%]
As you can see from the non-scientific results above, few think it is a hoax.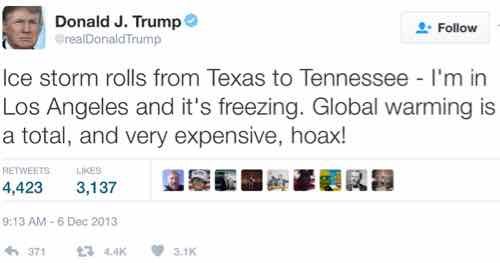 Click here to see a top 10 list of Trump's climate denying tweets and here to see climate deniers in the Trump administration.
Thankfully we still have Bernie Sanders in the U.S. Senate.
— Steve Patterson