Twice now in the last month I've departed the #10 bus on Forest Park on the east side of Euclid, in front of the Parkview Hotel (map). Both times a car has been parked in the bus stop.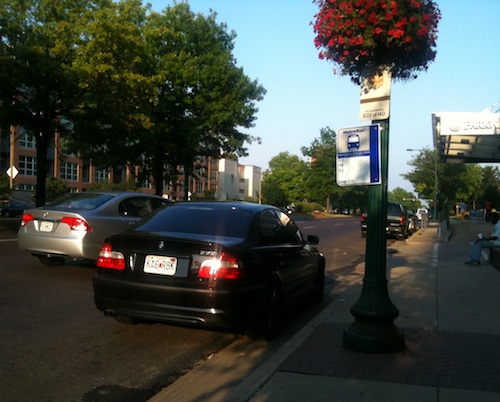 The first time the car was parked between the intersection and the bus stop sign, the bus had to let me off at the hotel driveway because the driver couldn't get close enough to the curb. Tuesday the illegally parked car was further east so the bus had room to pull to the curb to let me off and pull back out into traffic.
The first time I jokingly asked the bus driver if it would be fun to push such cars out of the way, he affirmed. This time I thought of a recent news story from Europe:
Drivers who park in cycle lanes would normally worry about receiving a fine or perhaps having their vehicle towed. They probably do not expect to have their car crushed beneath the wheels of an armoured personnel carrier which has the local mayor at the controls.

But car owners in Vilnius, the capital of Lithuania, may be choosing their parking spaces a little more carefully after the city's mayor, Arturas Zuokas, drove over – and wrecked – a Mercedes in a stunt to serve as a warning to anyone who thinks about parking illegally. (Source)
Here is the video:
httpv://www.youtube.com/watch?v=FQ-8xj8CUZw
Recently I was at another bus stop when a motorist parked in the stop where I was waiting. When she got out I asked her to move because the bus was due in minutes. On South Grabd I had to go into the FedEx store to find  the driver of a FedEx truck parked in the bus stop. He pulled out as the bus arrived.
I like and support on-street parking. When I chose to drive my car on-street parking is often the only choice I have to get me close enough to my destination I can walk there. Â The road in Vilnius has zero on-street parking, no wonder they have a problem.
Anyone know where I can get a used tank?
– Steve Patterson