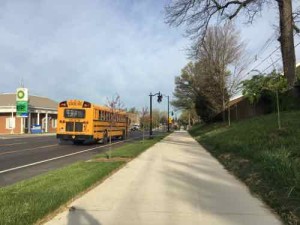 The last two days I've shown you before & after photos of the Great Streets makeover/road diet of Natural Bridge Rd — a 1.7 mile stretch from Lucas & Hunt on the East end to Hanley Rd in the West end (map):
In May 2012 I posted about the upcoming project, see Redeveloping Natural Bridge & The UMSL South MetroLink Station.
Many have said it now looks better, or is prettier.  True, but it functions & feels better — at least for pedestrians in my experience. I've also driven the stretch both directions, before and after, but that was on weekends. It also felt better to me as a motorist.
One complaint I received last month is that driving it now can take quite a bit longer. Only two options — either it does take longer or the perception is that it takes longer. I have no method to determine which it is.
The number of traffic signals seems about the same as before, I didn't tally the number, though that could be done via Google Street View. The major change was reducing the number of driving lanes  per direction from two to one. This freed up a significant amount of the public right-of-way (PROW) for use by pedestrian amenities.
Where such road diets have been performed, the actual number of vehicles through the area, in a given period, remains the same as before. Are there times where it might take longer? No doubt. But any speed that was achieved during the prior decades was at the expense of other users of the PROW.  Before this project vehicles traveled too fast. Two wide lanes per direction made drivers think it was OK.
Posted speed limits have little bearing on vehicle speed — motorists drive at speeds that feel comfortable to them. Give them only one narrow lane per direction and they'll slow down. However, they can't pass like they used to. To those who like to race to the next red light, it must be frustrating being behind someone going at or below the posted speed limit.
I plan to return during an afternoon rush hour to see if I can see backups at any of the lights, it's possible the timing needs to be adjusted.
On the other hand, I received an email from someone who says his significant other walks from home to/from the MetroLink station weekdays — the project is a huge improvement.
While there are some issues I pointed out in the first two parts, the public right-of-way (PROW) is now well-balanced between vehicles & pedestrians. Designing streets that are great for those of us who are disabled also turns out to be great for every pedestrian. Hopefully in the new couple of decades we'll see new urban infill in the various commercial areas along this stretch.
— Steve Patterson