In a guest piece in the St. Louis American 20th Ward Ald. Cara Spencer makes a passionate plea for expanding MetroLink light rail:
The St. Louis region needs a high-quality light rail system to connect Florissant/Ferguson and our densely populated South Side to Downtown and the Central Corridor. Now is the time to push for economic investment to help stabilize some of the city and county's most vulnerable communities. We should be demanding that our local leaders prioritize North Side/South Side MetroLink expansion as imperative to making St. Louis a progressive and economically just metropolitan area.

Public transportation speaks volumes about a society. Lack of transportation is an indicator of economic injustice and is the number one deterrent to employment and community involvement across the country. (St. Louis American)
Would light rail be more "just"?  Those who don't actually use public transit on a daily basis may think so, but the reality is the opposite.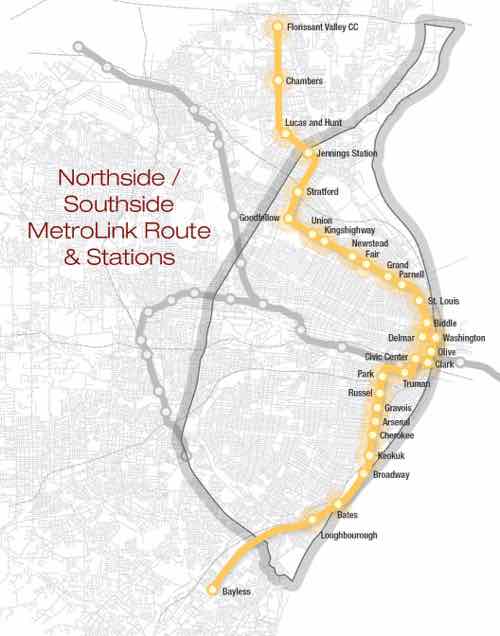 The above map is from the North South MetroLink Expansion Facebook page.
Northside:
Currently to get from downtown (14th & Spruce) to Ferguson and the Florissant Valley Community College there are two options:
#74 (Florissant) MetroBus is the most direct option. This takes 1 hour and 1 minute with up to 68 potential stops along the way.  That's a long time, I've done it many times in the last year.
MetroLink (Red) to Hanley Station plus #36 (Spanish Lake) MetroBus.  This option takes a total of 1 hour and 2 minutes. This route is 23 minutes on light rail with 10 stops, 10 minutes between modes, and 29 minutes on bus with up to 40 stops.  I'vc also done this a few times.
The proposed light rail line would certainly cut this down to 30-45 minutes. That's a good thing, right? Not necessarily.
Very few ride the #74 MetroBus end to end. It's a busy bus route but people get on/off where they need to. With 68 points of access it serves the corridor well. More frequent headways would be better though.  The proposed light rail route would most certainly mean the #74 would end at a new Jennings Station MetroLink Station at Goodfellow & W. Florissant, rather than duplicate service from that point North. From Goodfellow & W. Florissant it currently takes 24 minutes to reach the community college at the end of the #74.  The light rail map floating around would instead have just 4 stops including the start & end stops! How is that just?
Sure a light rail train may be faster and be more frequent, but that's little consolation if you're walking a mile further in the rain to get to a limited access point. For many current riders they'd now just end up having to walk their entire trip. Unless we ran a bus on the same route as the light rail train, which kinda defeats the point of spending tens/hundreds of millions on light rail.
Southside:
A similar situation occurs along the proposed Southside route. Currently a person downtown (14th & Spruce) seeking to get to Cherokee & Jefferson using public transit has two choices, both via MetroBus: #11 & #73
How long does it take to get from 14th & Spruce to Cherokee & Jefferson on these two MetroBus routes?
#73: 17 minutes, running every 30 minutes weekdays, with up to 18 points of access in that distance.
#11: 16 minutes, running every 20 minutes weekdays, with up to 19 access points.
Both are pretty quick. The Southside light rail being pushed follows the #11 route exactly between these points so let's take a closer look.  Google Maps includes the start & end stops in their 19 stop count. Here are the 17 access points in between:
14th St @ Papin SB
Chouteau Ave @ 14th Street WB
Chouteau Ave @ 18th Street WB
Chouteau Ave @ Mississippi WB
Chouteau Ave @ 22ND Street WB
Jefferson Ave @ Chouteau SB
Jefferson Ave @ Hickory SB
Jefferson Ave @ Park SB
Jefferson Ave @ 1605 S Jefferson SB
Jefferson Ave @ Layfayette SB
Jefferson Ave @ Russell SB
Jefferson Ave @ Shenandoah SB
Jefferson Ave @ Gravois SB
Jefferson Ave @ Pestalozzi SB
Jefferson Ave @ Arsenal SB
Jefferson Ave @ Wyoming SB
Jefferson Ave @ Utah SB
So how many stops would this "just" light rail make to serve the "densely populated South Side"? Five!
Chouteau & Truman Parkway
Jefferson & Park
Jefferson & Russell
Jefferson & Gravois
Jefferson & Arsenal
The density isn't concentrated at just 5 points! Only a person who doesn't understand transit can ague that spending millions while reducing 17 access points to 5 is "fair, just and equitable." For example, everyone who works & shops at Jefferson Commons would now have to walk further. Sorry folks, remember this is "just" as your grocery trips are longer.
Back to Ald. Spencer's op-ed:
On the one hand, it is exciting to see renewed interest in light rail in St. Louis County. Yet on the other hand, it is alarming that the expansions mentioned did not include a north/south route, but instead focused on the Clayton-Westport, Lambert-Florissant and Shrewsbury-Butler Hill lines. These three lines fail to provide service to the region's most densely populated areas and many communities that have the highest need. 
Northside/Southside light rail also fails to address actual needs — it would provide service for whites who are uncomfortable riding the bus with non-whites, see Race, Class, and the Stigma of Riding the Bus in America. You can have a free train running every 5 minutes 24/7 but if a person must walk a mile to reach a point of access they're not going to use it. Stop pretending it benefits them.
Related prior post: Northside-Southside Light Rail Wouldn't Be Good For St. Louis Neighborhoods
— Steve Patterson