In my nearly three decades of living in St. Louis I've crossed the Mississippi River on the MLK Bridge many times.
The bridge was built across the Mississippi River in 1951 as the Veterans' Memorial Bridge to relieve congestion on the MacArthur Bridge to the south. Built as a toll bridge, it was owned by the City of East St. Louis. At one time, it carried U.S. Route 40 and U.S. Route 66 across the river. In 1967, the bridge fell into disrepair after the (free) Poplar Street Bridge was completed; traffic moved to the new bridge, resulting in declining toll revenues needed for maintenance.

Eventually, ownership was transferred dually to the Missouri and Illinoisdepartments of Transportation and the bridge was renamed after Martin Luther King, Jr. in 1968, after the national civil rights leader was assassinated in Memphis, Tennessee. In 1987, the states removed the toll for travel across the bridge. A bi-state project for about $24 million to renovate the bridge, at the behest of local civic and government leaders, was carried out in the late 1980s. In the spring of 1989, the rebuilt bridge was reopened. In June 1990, the lighting of the bridge was completed by the St. Louis Port Authority. In the 21st century it is considered an important contributor to satisfying the transportation needs of the region and enhancing the ambiance of the historic St. Louis riverfront. (Wikipedia)
Recently I've crossed the river on the MLK using my power wheelchair. This wasn't dangerous since it closed to traffic in 2018 for maintenance and work on an approach in Illinois. The reopening has been pushed back as flooding last year delayed the work.
After a friend/regular reader walked across the bridge I decided to give it a try as well. I knew from her description that I couldn't easily get to the south (eastbound) lanes. I had to first roll along the north lanes (westbound), go into Illinois where the concrete center divider sections had been removed, then go back along the south lanes to get great views of the Eads Bridge, Arch, Laclede's Landing, etc.
I've done it twice now, once late evening and the other in the morning. The lighting is different.  I took lots of photos on both trips, but here are 8 from each — in chronological oder.
Tuesday April 21, 2020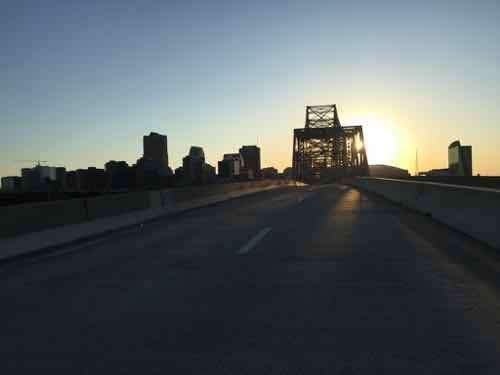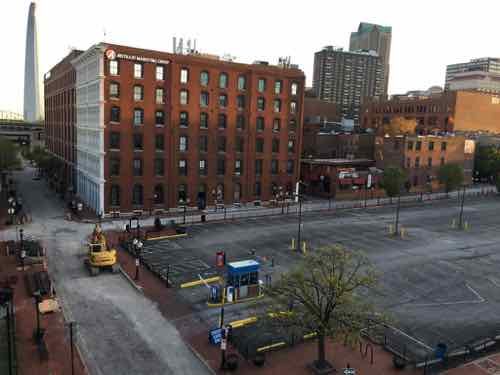 Saturday May 23, 2020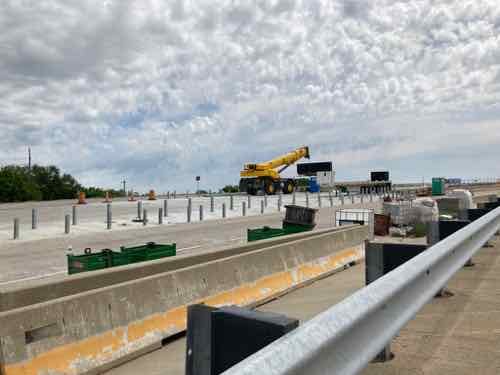 I may go across again before it reopens to vehicles, it would be nice if the public was invited to cross the bridge the weekend before it reopens.
— Steve Patterson