Last week, in response to a death as a result of late night racing downtown, St. Louis put up temporary barriers in various places, including blocking all traffic across the Eads Bridge.
In addition to the bridge, the city also closed a section of Washington Avenue from Tucker Boulevard to 14th Street with barricades this week. Barriers also narrow traffic in stretches of 4th Street, Broadway and Market Street.
 
"These are temporary changes," Krewson said Friday. "This isn't something that we expect to be there forever."

Krewson said downtown streets are built to hold a much larger volume of traffic than the city sees in an average day, and with fewer people working downtown because of COVID-19, the streets are even less crowded. (Post-Dispatch)
The last paragraph, quoted above, is an admission our streets are too wide. Previously when anyone argued the 4th Street/Broadway couplet (one-way in opposite directions) should be returned to two-way traffic the claim was always they needed to remain one-way due to traffic volume.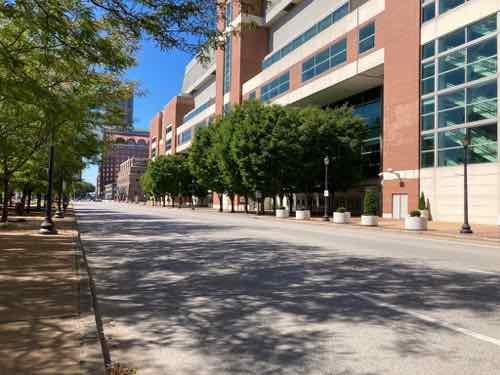 Before the COVID-19 pandemic the volume on 4th/Broadway couldn't justify the one-way couplet. It's past time for the decades-long experiment on our streets to end. The sole purpose of originally converting these streets to one-way decades ago was to quickly move cars into downtown offices in the morning, and then vacate them in the afternoon — just before the sidewalks were rolled up each night. Part of the engineer's disastrous effort also included banning on-street parking — that slows down the flow of vehicles. This is exactly the opposite of how you build a user-friendly downtown.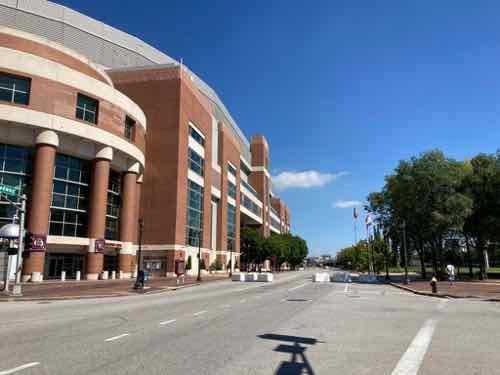 Walk Broadway from Cole Street to I-64 and see how it feels being next to one-way traffic for over a mile. You'll see in places the street has 5 very wide lanes that encourage high speeds. Even with the barricades at points, drivers coming off I-44 onto southbound Broadway at Cole street they reach high speeds to get into single file formation at Convention Plaza (aka Delmar).
Changing 4th/Broadway back to two-way traffic is only part of the needed solution. Traffic signals must be timed so that a person taking off from a red light doesn't encounter another red light just a block or two down the street. Our signal timing often encourages people to speed to make it through the next two or three lights. Lane width also matters — the wider the lanes the faster the traffic.
This isn't the St. Louis of 1950, we need to reverse decisions made by people born in the late 19th century.
— Steve Patterson