Normally we rarely eat out, I'm home all day and love to cook. Plus eating out often would break our low-income budget. However, we've actually been trying to eat out more since restaurants began reopening after COVID-19 pandemic closures.
I'm on disability so I get paid every month, my husband is an essential worker and has been getting full time hours most weeks. Our income has remained unchanged, our stimulus checks were additional income — so we're trying to spend more than usual to get money back into the economy.
We've done takeout, but I'm not a fan of all the wasteful packaging. This post is about three recent experiences where we sat at tables and had a server, in three different jurisdictions.
SPRINGFIELD IL SATURDAY MAY 31, 2020
It was a beautiful day, but long story why we went to Springfield. Anyway, at lunch time we decided to try one  location of 400 restaurant chain McAlister's Deli. Rather than going through a drive-thru and eat in our car we decided to try their patio, the interior dining room wasn't open. The temperature outside was perfect and they had tables in the shade.  First time trying this chain for both of us.
The tables were 6 feet apart…barely. A server took our orders, we were all wearing masks. Drinks came in usual fast food to go cups, but I'd asked for "no straws" so we didn't have that waste. The server brought a bill, took my card, returned with a paid receipt. All orders were to go but we could sit and eat so there was no tip option.
Neither of us had enough cash to tip our server so we ordered two cookies for dessert and asked about leaving a tip on our card. The server wasn't sure. She returned with our cookies and a dine-in credit card receipt. This allowed me to add a tip to cover our original and dessert orders — a total of $25.52. I added a $12 tip because she was doing a lot of running inside and out, may not have been getting any tips. The two women seated closest to use did give her a cash tip. I chatted briefly with them, which was nice to experience again.
All our trash went back into the big to go bag and into a trash barrel. My husband then went inside to use the open restrooms.
Better than going through their drive-thru and eating the food in our car. I noticed they had an accessible route from the public sidewalk to the building, something I look for even when driving.
RICHMOND HEIGHTS, MO (ST LOUIS COUNTY) WEDNESDAY JUNE 3, 2020
My husband had a long dinner break between his afternoon and evening clients, both in St. Louis County. We decided to meet for dinner since I could take transit to meet him at a location midway between his clients.  This saved him driving home for dinner or eating alone.
This Wednesday evening it was a hot day out, but I stayed cool while on Metrolink. We'd decided on the relatively new Red Robin at South Hanley & Dale.  I think it was a Red Robin I ate at about 15 years ago, in Kirkwood. My husband had never been to one before.
This time we got to sit in the dining room. All the tables were still in place but balloons & signs at many created spacing and reduced total capacity.  Nice dining room, an upgrade from the patio the previous Saturday. This time we had our drinks in real glass glasses, but still no straws! A folded paper menu created a pocket to hold plastic-wrapped utensils and napkin.  Our server wore latex gloves when bringing out our food — on real plates no less. But our utensils were plastic.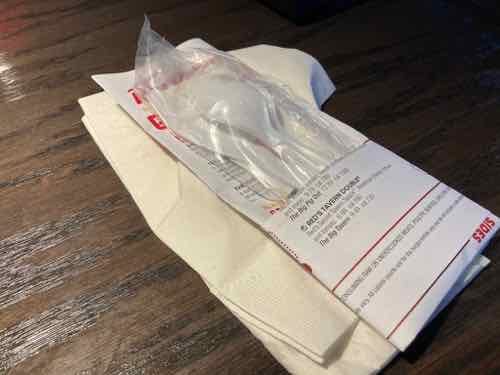 Total with tip: $31.03. Payment was via a wireless tabletop device from Ziosk.  It was older, would only accept a physical card swipe or Samsung Pay — no chip reader or Apple Pay. I have some cards that are contactless, I should've tried one of those.
This Red Robin location, like most, is company-owned, not a locally-owned franchise (yes, I asked).
SAINT LOUIS, MO SUNDAY JUNE 7, 2020
We went out for dinner again to celebrate the night before our 6th wedding anniversary. Not only did we want nice, we wanted local. We picked PW Pizza on Chouteau. I'd only been there a couple of times for meetings while working on participatory budgeting, my husband had never been before. We'd both been to Vin de Set, roof level, once.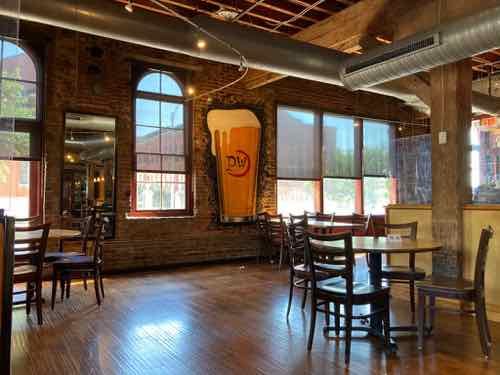 We said booth when the host asked table or booth, he then tried to seat us at a booth immediately next to an occupied booth. He didn't hesitate when I asked it we could sit one more booth over. They do have fixed plexiglass added between booths but why not be further apart when not busy?
Again we have real glasses for our beverages, but we also had metal utensils rolled up in cloth napkins. We went to a pizza place but we both ended up ordering calzones. Like the previous two the menus were single use paper. On the front I noticed EOB for Employee Owned Business. I knew the P & W of PW Pizza stood for Paul & Wendy, so I asked. Their company has a program where full-time employees can earn shares in the company — an ownership stake. I'm a huge fan of EOBs, that's one reason I buy King Arthur Flour.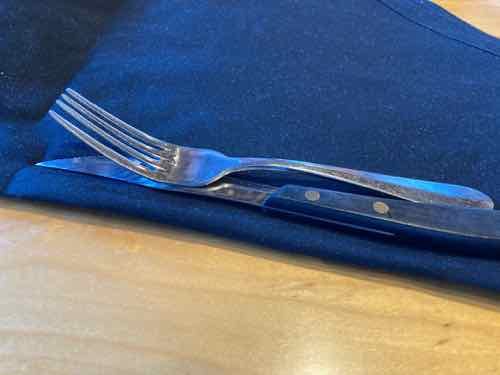 Nobody that came to our table with beverages or food wore gloves. Not sure that makes a difference, just noting it. Our total before tip was $28.26. No contactless payment was available, I had to surrender my card. After inquiring they offered to manually enter the card number rather than swiping it. They said they'd wipe off the card after touching it, ink pens used to add tip get wiped off after every use.
CLOSING THOUGHTS
A month or so ago I'd have told you it would be a year before I'd be comfortable eating out, but even rarely it feels real good to be pampered at mealtime. Especially as a househusbands who plans & prepares all our meals.
This does remind me of the time before smoking bans, when I'd have to research a restaurant to see if smoking was banned or allowed. Now I want to research ahead of time to find out their pandemic-era measures, contactless payment, etc. Like the old days, the websites & social media posts will likely fail to communicate the information I'm seeking. Big chains will have an advantage.
It does feel good to eat a meal I didn't have to prepare or cleanup, but also on real plates with cloth napkins (like at home). If I'm paying to eat out I don't want plastic utensils, plastic cups, or paper napkins.
It'll be interesting to see how the food service industry changes/adapts as the months go by. Hopefully small restaurant owners can make changes while surviving on reduced capacity.