Recently my husband and I were walking/rolling back toward our loft from the Union Station MetroLink Station. For some reason we were on the East side of 18th — usually I'm on the West side. However, both sides are equally poorly designed and maintained.
Anyway, we're Northbound on the East side of 18th as we approach Market St and I notice something I'd never seen before: Northbound vehicles get a green light but pedestrians don't get a walk signal while the left arrow is on. Since NB vehicles are turning left I get why pedestrians on the West side of 18th St aren't given a walk signal. You'd never want to give pedestrians the ok to walk while drivers get a left arrow — like at Tucker & Olive and Tucker & Locust.
Why should pedestrians get a walk signal? Pedestrians have the right-of-way except in cases where vehicles are given a specific signal such as a left arrow. In this cases pedestrians must wait, but in the example the only turning cars would be NB ones turning right onto EB Market — they'd yield to pedestrians crossing the street — like most intersections. My guess is this is another instance where the city just didn't think about pedestrian users.
Let's take a look…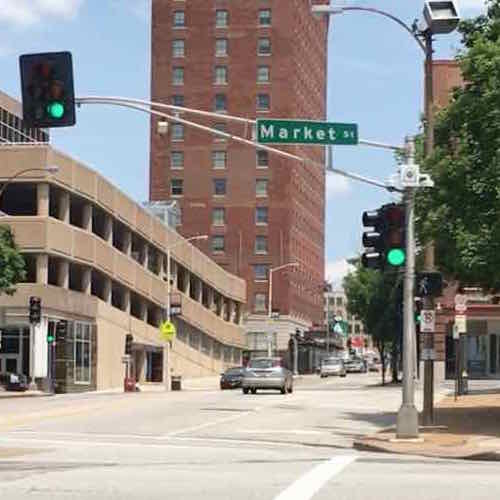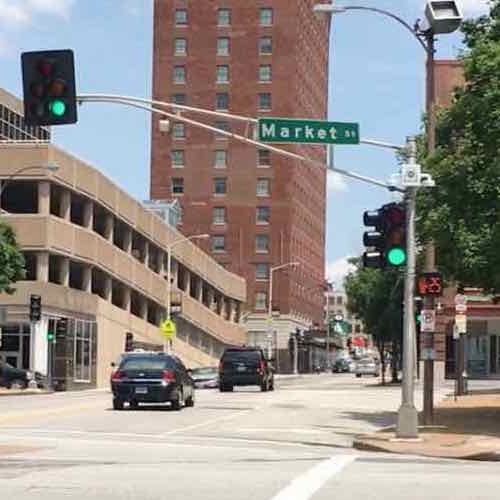 Because still images can't tell the full story I've put together a brief video:
Yes, another crossing at this same intersection is done correctly. If this were done right, pedestrians could cross Market St before Southbound vehicles get a green light and potentially make left turns onto Eastbound Market St — they don' t get a left arrow so they must yield to Northbound vehicles and pedestrians crossing Market.
I see no reason why pedestrians don't get a walk sign as soon as the Northbound traffic signal turns green.
— Steve Patterson