Last month I posted about how St. Louis Does the Opposite of the National Association of City Transportation Officials (NACTO), this is the first example: bus stops.
Transit is returning to its central place in the life of cities. With more people using buses, streetcars, and light rail than ever before, our street design paradigm is shifting to give transit the space it deserves. People are choosing to live, work, and play in walkable neighborhoods, and cities are prioritizing highly productive modes like transit as the key to efficient, sustainable mobility for growing urban populations. Transit agencies and street departments are working together to create streets that not only keep buses and streetcars moving, but are great places to be. Cities are extending light rail systems, investing in streetcar lines, and creating new rapid bus lines at a stunning pace, with ridership growing even faster in city centers. Transit agencies are rethinking their networks to serve neighborhoods at a high level all day, not just at commute times, while bike share and active transportation networks make it even easier to not only reduce driving, but to avoid the expense of owning a car.  (NACTO: Transit Street Design Introduction) 
Some of NACTO's principles:
On streets of every size and context, design can directly improve transit travel time, reliability, and capacity. Major projects like dedicated transitways can substantially increase transit speeds and the total person capacity of a street. On smaller streets, fine-grained improvements like bus bulbs and signal timing combine to transform the way the street works.  (NACTO: Transit Street Principles)
Transit streets are built around safe, low-stress, and complete pedestrian and bicycling infrastructure. Transit riders are active users of the street, relying on comfortable sidewalks and bikeways—and orderly motor vehicle traffic moving at safe speeds. Intuitive travel paths and frequent opportunities to cross the street make it easy and safe for people to get to transit stops, and are essential to building ridership.

Factors like presence of bicycle and pedestrian facilities, mixed land uses, and transit stop amenities have all shown significant positive correlations with transit ridership. However, the most significant indicator to ridership is transit level of service—transit frequency, transit alternatives, and route density—at a given stop location. (NACTO: Transit Street Principles)
On stops…
Use boarding islands and bulbs to allow transit vehicles to stop in their moving lane. Buses have long been expected to pull out of traffic to the curb, but this practice de-prioritizes transit, sometimes significantly on mixed-traffic streets. In-lane stops eliminate that delay, and provide an opportunity for near-level or level boarding. They also create shorter, safer pedestrian crossings, provide more walking space on the sidewalk, and make the street more predictable by sorting out bike-bus conflicts at stops. (NACTO: Transit Station & Stop Principles)
Sr. Louis, naturally, makes buses pull out of traffic rather than stay in the travel lane, as recommended. A problem I see often is people parking in the pull-out bus stop, from the archives: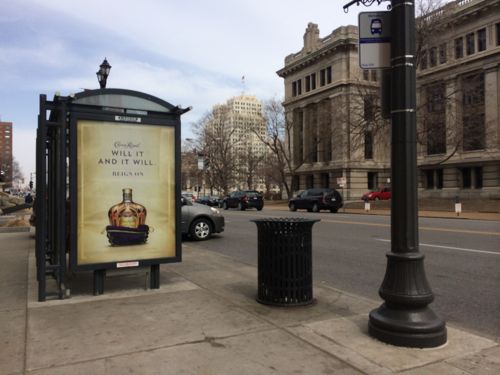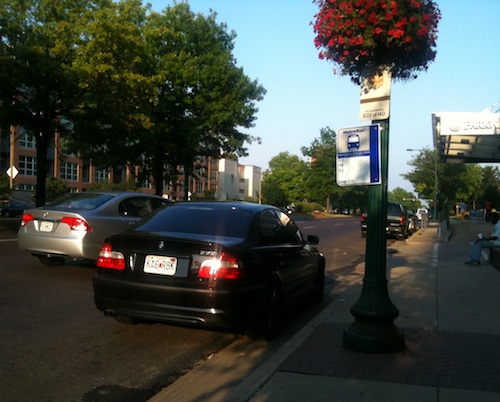 More on the benefits of in-line stops:
By allowing buses to move in a straight line, in-lane stops eliminate both pull-out time and traffic re-entry time, a source of delay and unreliable service. In-lane stops are especially valuable on streets operating at or near vehicle capacity, or on streets with long signal cycles, in which transit vehicles may experience long re-entry delays while waiting for traffic to clear. (NACTO: Stop Placement & Intersection Configuration)
And the negatives of requiring buses to pull-out of the travel lane:
Where buses are required to pull from traffic to make stops, longer bus zones are needed to accommodate transitions to and from traffic.

Short transition distances add delay to transit service and require sharper transitions to the curb, wearing transit vehicles and infrastructure more quickly.

Enforcement is required to keep pull-out stops clear; vehicles standing or parking in the stop zone constrain the operator's ability to pull completely to the platform.

Longer stops ease transitions into and out of stops, but require more curb length, reducing curbside parking spots.
At high-volume boarding locations, longer stops can be used to distribute queuing riders along the sidewalk and to ease pedestrian congestion.
The design of the humble bus stop can prioritize or de-prioritize transit. For decades the entree St. Louis region has de-prioritized transit use through the design of streets in the the public right-of-way.
— Steve Patterson