In July 2011 I blogged about three unfinished houses on North 22nd Street, in a development known as Bosley Estates. Last week they remained unfinished and decaying. They're at 3920, 3916, and the worst is 3912 (see on Google Street View).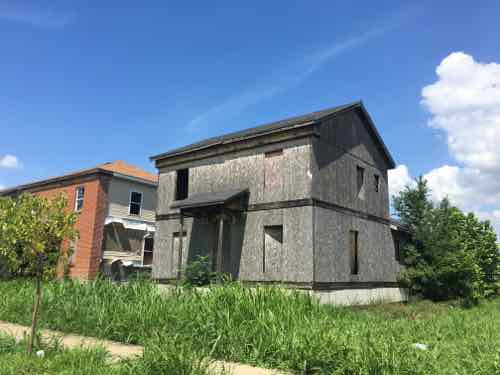 3912 N 22nd St is owned by Jewell 7 L.L.C.:
Entity created on 6/27/2012
Entity purpose: "Generate profit from the development and sell of residential and commercial property."
Registered agent: Kymberly Graham: 2010 Kingsgate Dr 63138
Organizers: Frank K. Billups & Darryl M. Bills: 15663 Debridge Way Florissant, MO 63034
3916 & 3920 N 22nd are owned by MINORITY DEVELOPERS AND BUILDERS ASSOCIATION OF ST. LOUIS, L.L.C.
Entity created on 1/7/2003
Entity purpose: "All purposes allowed under the act."
Registered agent: Gary Johnson: 3918 Page Ave., St. Louis, MO 63113

Organizers: Gary Johnson, Ken Hutchinson, and Walter Allen: 3918 Page Ave., St. Louis, MO 63113
Tax bills mailed to: 625 N. Euclid Ste 500, St. Louis, MO 63108 (now luxury apartments)
Building permits for 3920 & 3916 were applied for, and issued, on 4/14/2006. The permit for 3912 N 22nd was applied for on 5/16/2006, issued a month later.
City records show 4 sales for 3912 N. 22nd:
4/5/2006 for $15,144 LRA/back taxes (vacant lot prior to start of new construction)
7/15/2009 for $2,500 foreclosure
10/22/2009 for $2,500 foreclosure
2/27/2013 for $4,000 as part of a multi-location sale
Four new houses on the block were finished and sold. If I had bought one I'd be upset these were allowed to go unfinished for a decade!  Bosley Estates is named after the alderman, Freeman Bosley Sr.
Not sure which will happen first, these unfinished houses completed or a new alderman sworn into office in the 3rd ward?
— Steve Patterson