Last week I was driving through North St Louis and I checked out the progress on Bosley Estates, named for 3rd ward alderman Freeman Bosley Sr. Only seven houses were ever started with four finished, sold, and occupied. The other three were never finished, including 3912 N. 22nd. Â Of course, one could say this should be expected given the current economy.
When I visited Bosley Estates on June 27, 2007 it was clear to me the development was going to flop.  True, one of the finished houses had just sold for $155,200.00 on 02/07/2007.  Another would sell for $167k in October of 2007.
Ground was broken on Bosley Estates in December 2005, the project was to include 150 new homes. But nearly two years later it was clearly no longer a priority.
The street grid no longer functions as designed in much of the city, especially in the 3rd ward.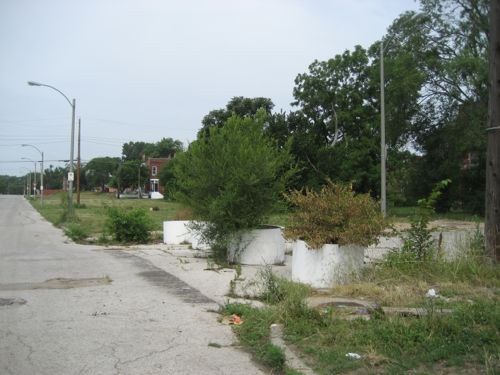 Interestingly, one of the four homes finally sold on 03/08/2010 for $133,500.00. Â I'm shocked.
One of the biggest flaws of so many new homes built in the city is the attached garage and long driveway. Â Proponents claim the attached garage is safer, not having to go outside to go from house to car. Â But owners must still get out of their cars in the alley to open the fence gate. Rather than have a nice backyard enclosed by a detached garage, these houses have concrete.
The Comptroller's office looked at the developer, Minority Developers and Builders Association, LLC, in December 2007 – see the report here. Â St. Louis Patina blogged about this development in May 2009. When I first visited in June 2007, just 18 months after groundbreaking, it was clear to me it was sinking then. Now, more than four years after my original visit it would appear St. Louis has wasted money on another failed project.
– Steve Patterson