Chouteau Ave, an East-West roadway, was once like most St. Louis streets — lined with urban buildings on both sides.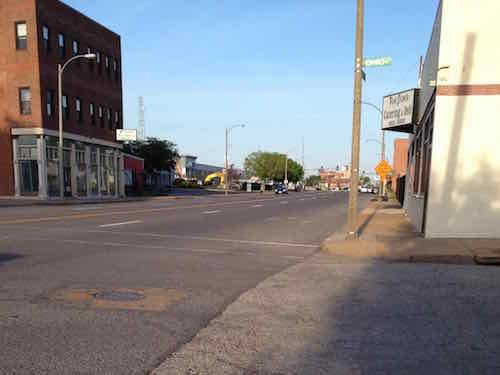 The prevailing pattern on both Chouteau & Jefferson is urban — buildings built up to the property line. Sure, more holes exist now than 100 or even 50 years ago — but that's no reason for the entire street to become the image of a suburban arterial. Even suburbs now are trying to urbanize their unsustainable development patterns.
Chouteau is the southern boundary of my neighborhood of 7+ years: Downtown West. In April 2012 I wrote about a need to study Chouteau Ave, here are a couple of quotes from Chouteau Needs To Go On A Diet:
Chouteau Ave has four travel lanes plus generous parking lanes, it's too wide. I couldn't find the curb-to-curb width but the public right-of-way (PROW) is a massive 80 feet, encompassing the road and adjacent sidewalks.

Recent road diet projects on Grand and Manchester had the number of travel lanes reduced from four to two. I don't think that's necessary or even a good idea on Chouteau. It's not lined with shops, although some do still exist in places. No need to make Chouteau into a low volume shopping street but there is no reason it's can't accommodate the current volume of vehicular traffic AND be less hostile to pedestrians.  This takes a corridor study.

Chouteau Ave extends east to the river and west until it becomes Manchester as it crosses Vandeventer, 3.4 miles long.  The far east end isn't as wide and is located in what will become Chouteau's Landing. A corridor study should focus on the 3 mile stretch from S. 4th on the east to Vandeventer Ave on the west.
And:
A corridor study of the 3 mile length of Chouteau Ave would identify key points where crosswalks are needed. Those not at intersections, like Mississippi Ave, would have a yellow caution light flashing overhead. In the 6/10th of mile between Truman Parkway and Jefferson Ave I'd suggest two pedestrian crossing points: Mississippi Ave and 22nd Street, this would equally space them 2/10th of a mile apart. Too far apart for a commercial district but adequate for this area.
My main focus was on improving pedestrian amenities, but a corridor study would also look at building form. From end to end urban buildings remain — the key to having the corridor be more urban 20-25 years from now is to retain existing urban buildings or replace them with new buildings that are at least as urban. At the time Kacie Starr Triplett had been reelected to a new term a year before. After Triplett resigned I suggested to the newly-electred Ald Christine Ingrassia that Chouteau needs to be studied — she said it wasn't a priority.
Her priority, it appears, is playing the same games aldermen have played for decades: pretend to be pro-city while introducing anti-city legislation. When called on it crying "I thought we were friends…" You see, they want to be friends so you won't publicly oppose their bad public policy. I encountered this a decade ago when Jennifer Florida supported a new McDonald's on Grand (McDonald's eventually gave up, a multi-story urban building now occupies the site). At that time I referred to guidelines in other cities pushing for more urban fast-food buildings. So I found it funny when Ald Ingrassia told me "As an aside I'm looking at introducing a bill requiring an urban design for gas stations in the city (similar to one in Ottawa – see attached info sheet)."
Ok, so you work for a year on a gas station opposed by many — that you yourself say "Needs a lot of work" — then after getting pushback to the legislation sent to the mayor for signature you ask for urban help and say you plan to require that future gas stations be urban — just not this one. Sorry, that's not how a smart city does business. A smart city, like Ottawa, develops guidelines to ensure new construction contributes to the environment they seek.
Yes, she talked with residents immediately to the West & South — they wanted police for security and a ban on hard liquor sales. This is the type of feedback when you talk to neighbors, the bigger planning issues never come up or if they do the project is presented as basically a done deal — just help make it better.  Here, we'll allow you to rearrange the Titanic's deck chairs…
The proposed QuikTrip (see site plan) has no business being built anywhere in the City of St. Louis — especially not at Jefferson & Chouteau. If built, how long before it's on QuikTrip's list of surplus properties? Probably 20 years. They can quickly depreciate their real estate then try to do a sale leaseback to maximize profits on their $11 billion plus in annual revenues.
QuikTrip can afford to develop an urban prototype and we have no incentives to allow them to build the planned location. It's not like we must drive out to the suburbs to purchase a hot dog, chips, soda, or fuel. They want to build here because they can generate a profit in the location. Fine — let them build & profit — but let's also not reduce the urban form on Chouteau or Jefferson in the process.
In the last Sunday Poll nearly 70% of the readers wanted an urban form or outright rejection:
Q: QuikTrip wants to build a typical QT at Jefferson & Chouteau, St. Louis should:
Allow it, but require an urban form w/building at the primary corner 23 [38.98%]
Deny it completely 18 [30.51%]
Let them build what they want 14 [23.73%]
Allow it, but require a few minor changes 4 [6.78%]
Unsure/No Opinion 0 [0%]
Can we please stop electing faux progressives?
— Steve Patterson