Often I encounter annoying things as I make my way around the city, dismissing many as flukes. I took photos of a gate blocking the public sidewalk on November 28, 2012 and again on March 7, 2014.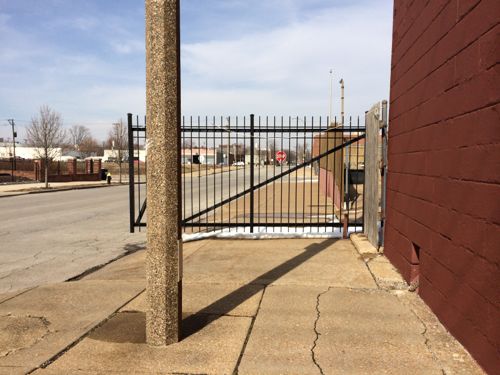 This is the side gate for 2840 Locust St., owned by Barry Adelstein & Scott Gundolf. Years ago the renter of the property was Michael McMillan, former alderman, license collector, and cureently head of the Urban League of St. Louis. To my knowledge he still lives here. This property is directly north of the neglected Castle Ballroom.
The owner of the Castle Ballroom is SAG PROPERTIES LLC, with tax bills sent to 2840 Locust St.  Documents show Scott Gundolf is the President of SAG Properties LLC.   He's also a licensed real estate broker with One West Associates, Barry Adelstein is also a licensed broker.
Just what is the relationship between Michael McMillan, Barry Adelstein, and Scott Gundolf? McMillan's close associate, Marlene Davis, became the 19th ward alderman when he was elected to the office of license collector. Adelstein was a partner with Marlene Davis in a failed midtown bar, Gene Lynn's, which closed in 2008.  Davis was forced to file for bankruptcy in 2010.
Did these associations help get officials to look the other way regarding maintenance of the Castle Ballroom building? And to a lessor degree, feel like it's ok to block the public sidewalk with a private gate? But wait, there's more!
The real estate deal in question involves the old Castle Ballroom at 2839 Olive, which Rainford says Reed bought and sold for a large profit, before helping the developer who bought it get a taxbreak. Reed's campaign says sale was profitable, because it happened during the 2004 market peak; and the tax break was sought by the alderman in that ward, passed unanimously by the board, then signed by Mayor Slay. (KMOX)
A tax break? There's much more to this, I suspect! Plus I don't want the gate left open blocking the public sidewalk.
— Steve Patterson