Yesterday I decided to use a gift card I had for Crate & Barrel. We'd had warmer weather and rain to help clear away the snow. Unfortunately I encountered a problem as I approached The Boulevard.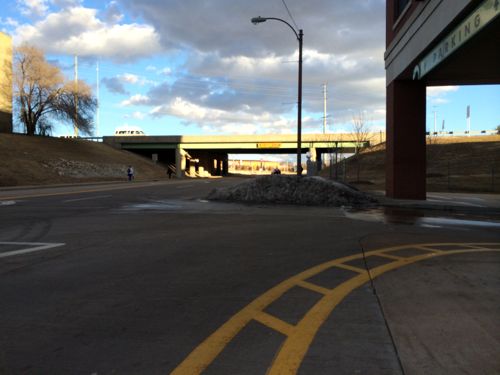 The Boulevard is owned by developer Pace Properties. Here's how they market the development:
In the heart of St. Louis is a lifestyle destination unlike any other. The Boulevard – Saint Louis is a vibrant village with a unique blend of upscale retail, fine dining, and luxury residences. Home to retailers and restaurants such as Soft Surroundings, Loft, Crate & Barrel, P.F. Chang's China Bistro and Maggiano's Little Italy, The Boulevard is the premier lifestyle development in the St. Louis metropolitan area. Take a stroll down the shops of Main Street and sit back and relax on the patio of our restaurants. (The Boulevard)
"Vibrant village" huh? Right…. I shouldn't be surprised since their "visit us" page gives driving directions, no mention of public transit.
As I was checking out at Crate & Barrel the clerk asked me how may day was going, I said "Great, but I had a hard time getting here." I showed her the first picture above. She was shocked so she called the store manager over. I showed the manager the same picture and she said she'd talk to Pace Properties.
Pace Properties wants to develop the SE corner of Forest Park & Vandeventer, they're calling it Midtown Station.  Pace is the broker for IKEA's proposed St. Louis store and they're connected to the ADA-challenged Fields Foods development.  I'm not impressed with Pace Properties.
UPDATE: Response from Pace Properties received 1/14/14 @ 2:45pm:
Steve:

As property manager of The Boulevard Saint Louis, I am sorry to hear about your recent experience. Pace Properties takes accessibility issues very seriously. For example, at the Brentwood Square Shopping Center we recently did a large, and costly, project overlaying the parking lot and replacing the handicap ramps in front of each store to ensure that we had ADA compliant paths. Unfortunately, the mound of snow that restricted your path adjacent to The Boulevard was pushed there by the county when they were clearing Galleria Parkway. We do not have any surfaces in that vicinity that would necessitate snow clearing due to the covered garage – with the exception of the small entrance/exit to the garage and the sidewalk. I have spoken with our snow removal vendor and they have been instructed to clear future obstructions from the ADA accessible ramp.
Thanks for contacting us regarding this issue. We appreciate visitor feedback and hope that we can make your next visit a more enjoyable experience.
Thanks,
Joshua
—
— Steve Patterson