Forest Park Ave from Kingshighway to Grand (map) is 1.6 miles long with the potential to be a dense urban corridor. Developers, however, would like to make it a typical low-density big box chain retail corridor. I'd like to show you why I believe two big box retail developments at Forest Park Avenue & Vandeventer are out of character, why these will undo the work others have done recently.
I had enough photos of various buildings along Forest Park Ave to write this post, but Saturday I spent about 90 minutes taking around 150 photos as I traveled the entire length in my wheelchair. Why go to such trouble? I believe cities can't be properly understood driving through in a car, or worse, relying on Google street view. You've got to hit the pavement to really get what an area is about.
I got off the bus on Forest Park Ave at the first stop east of Kingshighway and returned downtown from the Grand MetroLink station, about 2 miles of travel.  Don't worry, I'm only going to show you a small percentage of the images I took.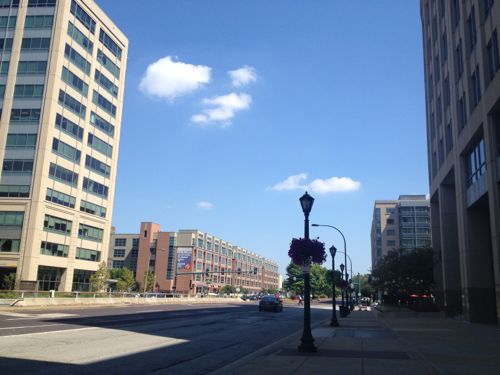 lass="size-full wp-image-30767" alt="One low-rise strip center exists on the NE corner at Taylor Ave. If the St. Louis Streetcar gets built expect this 1985 building to be replaced with something more dense" src="http://www.urbanreviewstl.com/wordpress/wp-content/uploads/2013/08/forestparkave02.jpg" width="500" height="375" /> One low-rise strip center exists on the NE corner at Taylor Ave. If the St. Louis Streetcar gets built expect this 1985 building to be replaced with something more dense