I'd never heard of Tee's Golf Grill until Monday when I was driving around the Chesterfield Valley, it closed in July 2012:
The 10,400-square-foot golf center opened in early 2011 at 103 Chesterfield Valley Drive. "We're doing a full-service sports bar and grill," Ben Rassieur IV, Tee's owner with Phil Harris, told Sauce magazine at the time. In addition to the bar and grill, Tee's had 330-square-foot golf simulators that visitors used to practice their swings. (St. Louis Business Journal)
I'm not sure if the building was constructed new for this tenant, or a previous tenant. I also don't know why this business closed so soon, but I found a number of issues that should be addressed by the owner before the next tenant leases the space.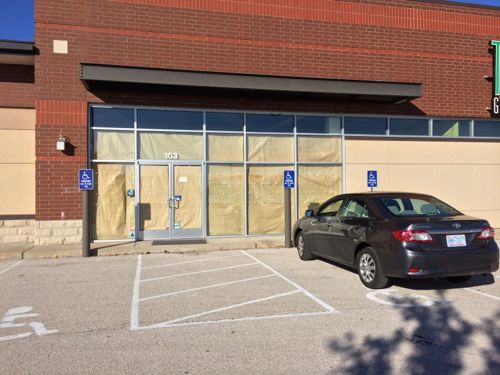 This building shares the same site with a multi-tenant building to the south, yet there isn't an ADA-compliant accessible route connecting them, as required.
I will attempt to share the above issues with the owner and St. Louis County.
— Steve Patterson